EMERGENCY services have been inundated with calls has torrential rain has lashed Spain with three areas on RED ALERT for heavy rain again today (Friday).
The worst of the weather is expected in the areas Teruel (Aragon), Tarragona (Cataluña) and Castellon (Valencian Community) where it is forecast up to 400mm (16 inches) could fall.
Yesterday firefighters rescued at least 15 people from their cars across the province of Castellon, after flash flooding hit the region. The city activated its local flood emergency plan.
Meanwhile, at Bioparc in Valencia the elephants got their trunks out and played in the downpour (see video below).
The Balearic island of Mallorca that was badly hit last week with 13 fatalities in flash floods remains on an ORANGE ALERT today.
On Saturday the situation will improve in the east while the south will take the brunt of the worst weather. In Andalucia the provinces of Almeria, Granada and Malaga (including the Costa del Sol) have ORANGE ALERTS for heavy rain – as does Murcia.
By Sunday the storms should have moved away and there are currently no alerts in place.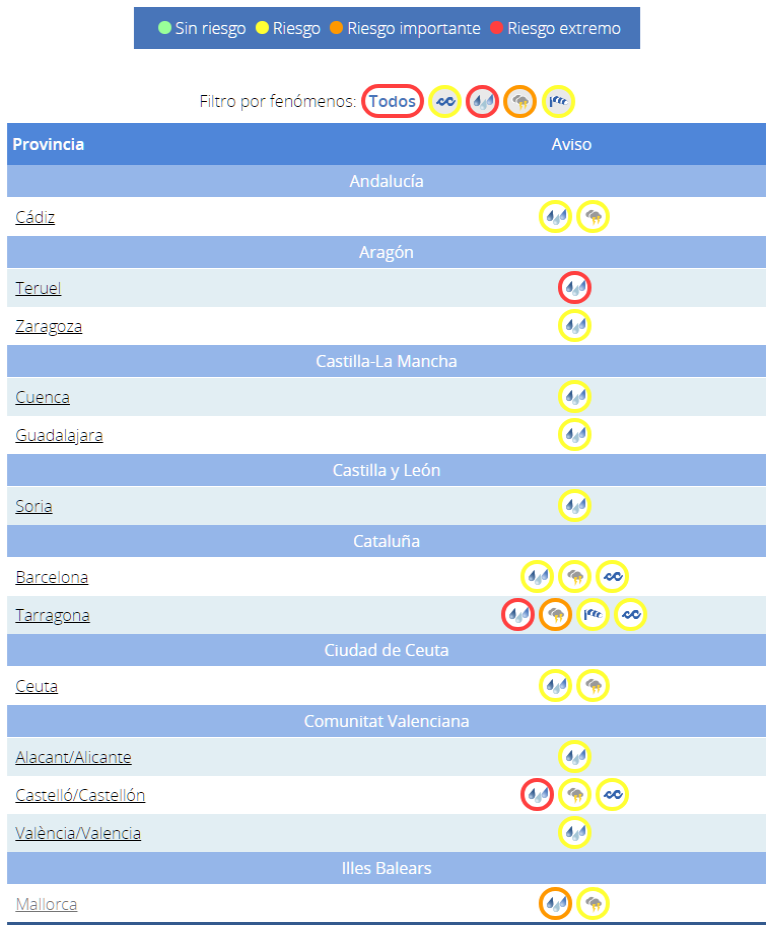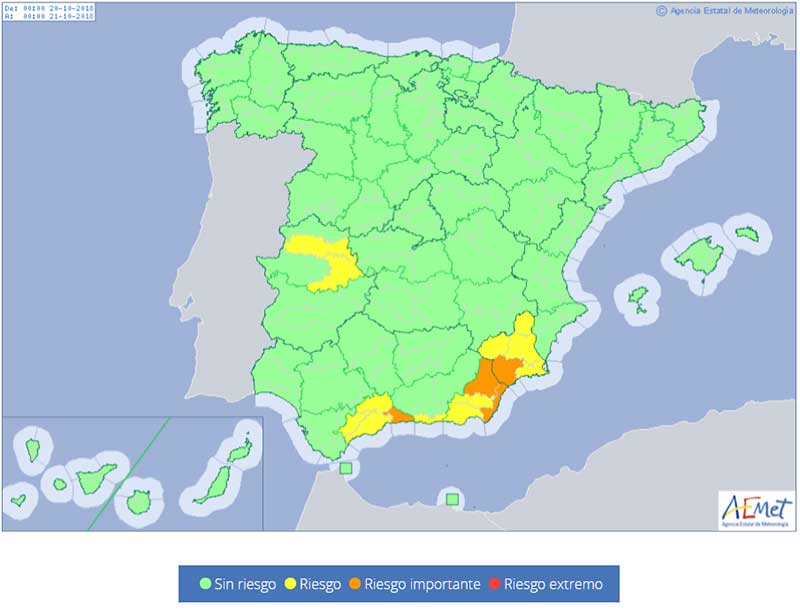 Las lluvias empiezan a notarse com más intensidad en la provincia de Castellón. La zona sur es la más afectada. Imágenes de la localidad de Almassora pic.twitter.com/56JOviwOq1

— CPBC (@SIAB_Castellon) October 18, 2018



Noche larga para todos los efectivos de #BomberosCPBC @dipcas que no han parado ni un solo minuto trabajando en servicios relacionados con #temporalLluvias . Esta madrugada lo peor se ha vivido en la zona de Alcossebre donde varias urbanizaciones han resultado inundadas. pic.twitter.com/RIHHfjrVE2

— CPBC (@SIAB_Castellon) October 19, 2018