FUNERAL arrangements have been announced for the Costa del Sol 'legend' Peter Nette who ran the hugely successful Floria Rustico restaurant in Manilva who passed away suddenly.
The sad news of his death was initially announced on the eatery's social media page.
It read simply: "It is with deepest sadness and regret that we must announce the sudden passing of Peter Nette."
Mike Jackson said: "Such sad, sad news, he gave us some of the very best of times ever over the years. Thoughts are with Karen and the family at this very difficult time."
Allie McClure added: "So very shocked to hear this sad news. The Floria was one of our favourite places to be not only for the food but the company. Peter always looked after us and my family too. Our thoughts and prayers are with his family at this very sad time. RIP Peter x"
Jamie Grant recalled: "Peter created not just an environment and sublime welcoming atmosphere for us all to enjoy he created the Floria family.
"He effortlessly brought people from all walks of life and all nationalities together and made them friends, he introduced everybody to everybody else, those friendships will last forever and so will Peter within those friendships.
"He told me right after the tragedy of Floria Chiringuito that there was no time to waste on dwelling on that loss even though it broke his heart, he rarely spoke of it but when he did it was compared to the loss of a child, his responsibility firmly at that point was to the Floria family he'd created.
"He almost immediately relocated, concrete tables the lot to what is now Floria Rustico to make sure the Floria family had a familiar home."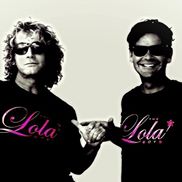 The Lola Boys, well-known entertainers based on the Costa del Sol, were regulars at the Floria and posted their own touching tribute:
Almost ten years ago 'The Lola Boys' joined the circus! And what a circus!
The ringmaster was handsome and strong, with a roguish grin and eyes of flashing green.
His name was Peter Nette.
He was an extraordinary man.
The shows which Peter, Paul and Andrew put on together produced some of the most wonderful nights of 'The Boys' lives.
Life was certainly a cabaret with Pete. And what a cabaret!
Since he has tragically made his exit to that great circus-ring in the sky, the tent will seem a little darker. The trapeze – a touch less thrilling. The clowns not quite as funny, and the 'bloody fire lady' will have a little less sparkle.
For the strong man, who could carry off a pair of red stilletos nearly as well as me, has, just like his beloved Elvis, left the building!
We are devastated!
Darling Peter – you will forever be our other 'Lola Boy'.
We shall miss you always you old bugger,
You were, after all, 'The Greatest Showman'!
Our deepest thoughts are with Karen, and Tommy, and all who loved you ….
'Auf Wiedersehen Mein Herr' xx
Peter's funeral will be held on Friday, October 19 at 12noon at the Estepona Tanatorio.
https://www.facebook.com/floria.rustico/posts/1163414450450366
https://www.facebook.com/floria.rustico/posts/1165670280224783