SPAIN'S national weather agency, AEMET, has issued orange and yellow weather warnings across more than FORTY regions tomorrow (Sunday) for heavy rain, strong winds, thunderstorms, high coastal waters or a combination of several or all.
Virtually the whole of the country is affected including popular holiday regions such as the Costa del Sol, the Costa Blanca and Ibiza.
The Ministry of the Interior has added its voice to the presence of heavy rain and strong winds due to the remains of Hurricane Leslie and other active fronts.
The Ministry advice includes to 'be extra careful – especially if you drive.'
Some warnings are already in place from tonight (Saturday) but the worst of the weather is forecast for Sunday, with a few areas retaining yellow alerts during Monday too.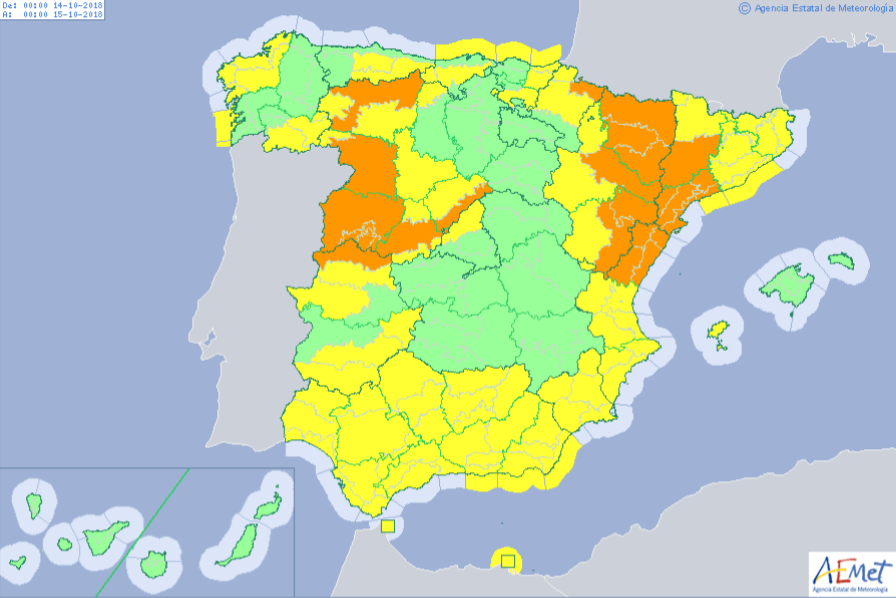 13/10 18:01 #AEMET #avisos nivel naranja por lluvias y/o viento para mañana en C. Valenciana, Cataluña, Castilla y León, Extremadura, Aragón y Navarra +infoCLICK EN LA IMAGEN o en https://t.co/3ce1BF7jDj https://t.co/HSTYQ5e7Ok

— AEMET (@AEMET_Esp) October 13, 2018
#ProtecciónCivil y Emergencias alerta por lluvias intensas y fuertes vientos tras la entrada de los restos del ciclón #Leslie y la presencia de otros frentes activos. Ten precaución especialmente si conduces 🚗

👉 Más info en https://t.co/76b3KMqjgm y https://t.co/MrRzcg7DXs pic.twitter.com/irkPvfi2oS

— Ministerio Interior (@interiorgob) October 13, 2018
El cono de probabilidad de ubicación del centro del #Leslie según la pasada de las 00UTC @ECMWF pic.twitter.com/G4wMRND6ST

— SINOBAS (@AEMET_SINOBAS) October 13, 2018