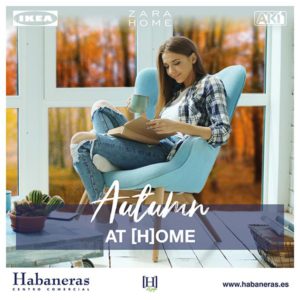 Household name brands IKEA and AKI are offering Habaneras Shopping Centre customers some fun activities to start autumn with a "new look".
Habaneras Shopping Centre, managed by JLL, has been putting together a change of season with all-round appeal. With the arrival of autumn and evenings curled up on the couch with a blanket and a good film, the Centre is offering customers a range of activities to help them give a new look to their homes. Along with workshops led by professionals from AKI Bricolaje, IKEA is giving customers the chance to feature on the front cover of the country's most famous home decoration catalogue.
In conjunction with the AKI brand, Habaneras has organised a series of practical workshops for learning how to chalk paint or how to make a magazine holder with copper piping. The sessions will be held on 6 and 12 October from 11 am to 1 pm in the specially prepared area near the main entrance to the Centre.
If you're interested in taking part, just turn up at the allotted time. You don't need to take anything with you, as the Centre will provide everything you need to make your creations, which you can then take home with you. All you have to do is register via the Habaneras App by clicking on the "Experiences" button, or you can go to the Infobox in the Centre.
About Habaneras Shopping Centre
Habaneras Shopping Centre, managed and operated by JLL, includes 60 establishments providing a wide range of fashion and accessories, homeware and decoration, services, food and drink. Based in a strategic area of Torrevieja, the Centre's commercial mix plus its provision of free services, children's play areas and other family-oriented services, place it at the forefront of its main catchment area. The wide range of food and drink outlets available at Habaneras caters for all tastes, with establishments like Ginos, Starbucks, Foster's Hollywood, Lizarrán, 100 Montaditos, El Rincón del Café, Helados Sirvent and Vaini.
For more information please contact the Customer Service Desk, visit the website, www.habaneras.es, or the Centre's Facebook page at Facebook.com/LasHabaneras. If you want to keep up to date with all that's going on at the Centre, you can download the Habaneras App from AppStore or Google Play.