A THOMAS COOK plane sporting the airline's latest livery has gone viral on social media after an apparent gaffe by the designer.
The new design on the plane features the words: "I love Cook's Club" referring to the company's latest marketing initiative, offering "zen" holiday experiences designed to lure in millennial holidaymakers.
However, one eagle-eyed passenger noticed the message on the side of the plane dramatically changed once one of the doors has been opened.
The passenger snapped the airline's gaffe and posted it onto social media on Wednesday night to the group A Fly Guy's Cabin Crew Lounge.
The embarrassing oversight has since gone viral with hundreds sharing the outrageous gaffe.
Thomas Cook has gone on record regarding the gaffe to say: "It goes without saying it's an accident, but it is one way to highlight where the emergency exit is."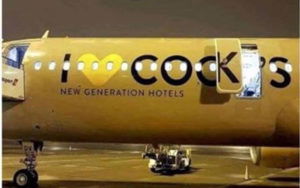 Thomas Cook has also released video footage of how the new plane design came to be.