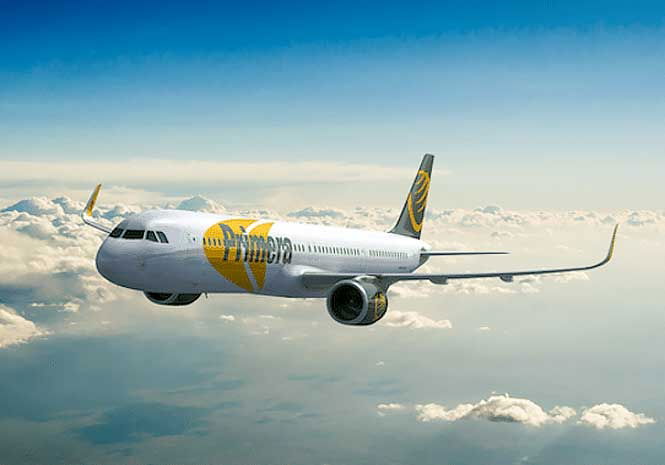 SHOCKED passengers of Primera Air that flew routes between the UK and Spain and has gone into administration have been advised not to travel to airports but contact the airline directly.
Sally James said: "We're stranded in Malaga as our flight has now been cancelled for Monday 8 October. Will have to try and get other flights home."
While Antony Meadley added: "My daughter is now stuck in Spain. She flew out on Saturday and was due to come back this Thursday."
Yesterday evening London Stansted issued a statement saying: "We have learned this Cafternoon that @primeraair has ceased all flight operations and will go into administration at midnight tonight (October 1).
"Passengers due to travel with Primera Air are advised not to travel to the airport and instead contact the airline direct for information regarding their flight.
"We understand this is a difficult time for customers whose travel plans have been disrupted and we are providing information and assistance to those who have already travelled to the airport for flights that had been due to depart today."
However, no further information has been forthcoming from Primera Air since they issued a statement yesterday that said: "Kindly understand that the usual options for contacts (via email or phone) can not be offered any longer."
Birmingham Airport referred customers to the Civil Aviation Authority advice, which urged those expecting return flights to the UK with the operator to make fresh arrangements home.
And the Civil Aviation Authority, the UK's independent aviation regulator, advice is as follows…
Primera Air, a Danish scheduled air carrier which operated services from various points in the United Kingdom, has announced it will cease operations.
Primera Air is not covered by the UK Civil Aviation Authority's ATOL Protection scheme which only covers passengers booked on a package holiday.
Ticket refunds
Passengers wishing to obtain a refund for unused tickets will need to contact the company directly. Passengers who booked directly with the company via either a credit, charge or debit card may alternatively be able to make a claim against their card provider. Some card providers will ask for a negative response letter confirming the position* Passengers may also be able to make a claim against their travel insurer. (*This letter will be published shortly)
Passengers who have flown
Passengers who have travelled will need to make their own arrangements to return home. They should contact their travel insurer or travel agent for assistance.
Direct booking with an airline
Airlines are not included within the ATOL Scheme, so if you booked direct with an airline that has ceased trading you will not be covered. If you paid directly to the airline by credit card you might be protected by Section 75 of the Consumer Credit Act 1974. You should check with your card issuer for further advice. You may have similar cover if you paid by Visa debit card. Check with your bank.
Booked through an Airline Ticket Agent
If you booked your ticket through an airline ticket agent you should speak to the agent in the first instance; they may have provided travel insurance that includes Scheduled Airline Failure cover, so check with your agent.
Scheduled Airline Failure Insurance (SAFI)
Some airlines and airline ticket agents will offer customers either a specific Scheduled Airline Failure Insurance (SAFI) policy or include similar protection within a broader travel insurance product. The type of protection provided may vary depending on the type of policy taken out. A policy may simply cover the cost of the original tickets purchased or any unused portion, or the additional cost of purchasing new flights, such as new tickets for travel back to the UK.
Booked with an ATOL holder
If you have booked flights or a holiday that includes flights with a travel firm that holds an ATOL (Air Travel Organiser's Licence) and received confirmation that you are ATOL protected, the travel firm is responsible for your flight arrangements and must either make alternative flights for you so that your holiday can continue or provide a full refund. If you are abroad, it should make arrangements to bring you home at the end of your trip. Contact the ATOL travel firm.
Primera Air, which was Icelandic-owned but had operations based in both Latvia and Denmark, had run charter operations mainly serving Nordic passengers for around 15 years.
Earlier in the summer the budget airline announced that it was cancelling all autumn and winter flights from Birmingham Airport and also cutting some services to Spain from London Stansted.
They also stopped running services between Birmingham and Mallorca and Barcelona from September 3.
Routes between Birmingham and Alicante, Las Palmas, Malaga-Costa del Sol and Tenerife were due to stop on October 29.
And, in addition, Primera Air dropped its Stansted-Alicante route on 30 September, and had announced some flights from Stansted to Malaga-Costa del Sol were being cut from 1 October.
GROUNDED: Budget airline that flies to Spain goes bust leaving thousands stranded
We have learned this afternoon that @primeraair has ceased all flight operations and will go into administration at midnight tonight. Passengers due to travel with Primera Air are advised not to travel to the airport and instead contact the airline directly. Thank you. pic.twitter.com/0o6kNgn0ZD

— London Stansted Airport (@STN_Airport) October 1, 2018
Advice to UK consumers impacted by Primera Air ceasing operations: https://t.co/BxttqInqpw#Aviation #PrimeraAir #Primera

— UK Civil Aviation Authority (@UK_CAA) October 1, 2018
Dear Passengers,
Airline Primera Air and IATA codes PF and 6F have been suspended as of today, please find more information here: https://t.co/DgKuVIZB5S

— Primera Air (@primeraair) October 1, 2018