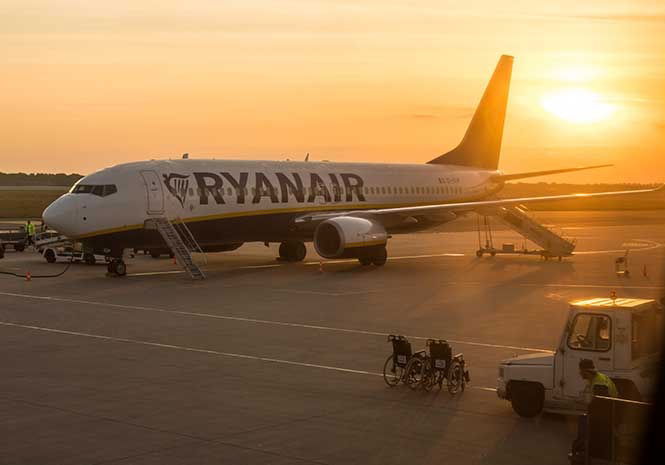 GOVERNMENT officials in Spain have insisted the budget Irish airline operates all domestic flights between the peninsula and the Balearic and Canary islands during the airline's 'biggest ever strike' by unions tomorrow (Friday, September 28).
It comes as German pilots announced they will also join the strike by cabin crew in Spain, Germany, Belgium, the Netherlands, Portugal and Italy and Dutch pilots.
Ryanair's Chief Operations Officer Peter Bellew said: "It is deeply disappointing that some of our customers and our people in Germany tomorrow will have their flights disrupted by an unnecessary strike called at short notice by the Lufthansa controlled VC Union.
"This is another example of a strike being organised in Ryanair by association by a union controlled by competitor airline employees, despite the fact that Ryanair has agreed to arbitration, and at a much faster period of implementation (4/5 weeks) than the 5 months being sought by the VC Union."
Spain's Public Works Ministry has said that despite the strikes tomorrow Ryanair must provide a minimum service with 35 per cent of flights within the peninsula where the alternative overland route is less than five hours, and 59 per cent of flights where the overland alternative is longer than five hours. Ryanair must also maintain 59 per cent of its international flights.
Yesterday Ryanair revised the number of cancelled flights on Friday (September 28) downwards and says it expects 'the vast majority of its people work as normal' during the stoppage described by the unions as the 'biggest strike ever' to hit the airline.
"The number of flights cancelled this Fri, 28 Sept has been reduced to 150 (from the expected 190) as the vast majority of our people will work as normal. Over 92% of Ryanair's 2,400 flights on Fri will be unaffected by these unnecessary strikes and will operate as scheduled.
"All affected customers received emails and SMS text messages 3 days in advance advising them of their flight cancellation and their options. We sincerely apologise to those customers affected by these unnecessary strikes… which we have done our utmost to avoid."
But there is still no publicly-available list of the flights that have been cancelled.
For those passengers still affected the Civil Aviation Authority has urged them to claim €250 or €400 in compensation under European air passengers' rights rules.
But the airline has said they will reject compensation claims for strikes because they were caused by 'extraordinary circumstances'.
Ryanair has published its offer to pilots and cabin crew 'in order to set the record straight, correct competitor trade union propaganda and pave the way to a speedy conclusion of collective labour agreements (CLA's) with its people and their unions.'
The Irish low-cost carrier has also submitted a competition complaint to the European Commission, calling for 'an investigation of the anti-competitive behaviour of certain competitor airline crew, unions and lobby groups, who are actively impeding Ryanair's negotiations with its pilots/cabin crew and who are organising repeated strikes in an effort to damage Ryanair's business and customer confidence, for the benefit of Ryanair's competitors.'