AEMET, Spain's national state weather agency, has issued fresh yellow severe weather warnings for tomorrow (Wednesday) amid reports that some areas are already experiencing heavy rain and thunderstorms.
The weather warnings have been extended to two of the country's most popular tourist areas in the Costa Blanca and the Costa de Almeria.
Both areas are expected to see torrential rain and potentially thunderstorms according to the information put out today.
Several videos have surfaced on social media suggesting the stormy weather has already arrived to the Costa Blanca in areas such as Benidorm.
The official AEMET weather warning map can be found below showing the regions at risk to yellow level weather.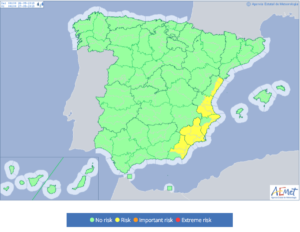 ¡Calles como ríos en #Benidorm (#Alicante)! ☔ Hoy no hace día de playa en una de las ciudades más turísticas de la #CostaBlanca. @ecazatormentas @avametpred. Vídeo: @JimVives. pic.twitter.com/d9DjJnJ1zc




— MeteOrihuela (@MeteOrihuela) September 25, 2018
#Benidorm NOW ☔️☔️☔️☔️ pic.twitter.com/gXojKTKvkL




— ASHLEY B. HIDES (@CHEESETITS2011) September 25, 2018