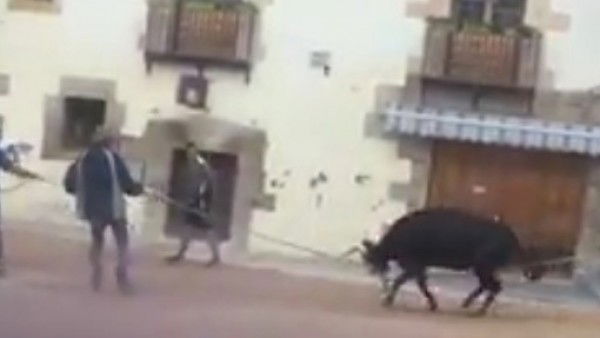 SHOCKING video shot in Spain shows a distressed cow audibly in pain while being transported through the streets.
The animal, tied by the horns, can be heard screaming and crying out in pain as it is hauled through the streets of Cuenca by 20 people during celebrations of the festival of St. Matthew.
The video was originally spread around social media in Spain by the Ciudad Real Anti-bullfighting Cultural Association who have heavily criticised the manner in which the animal was treated.
The animal rights association have voiced concern that the cow was not handled in a way which corresponds to Bullfighting Regulations of Castilla-La Mancha.
They have cited that bulls and cows are not allowed to tied up in the way this cow was secured and have voiced anger that the personnel involved in the transportation of the heifer, a cow which has not borne a calf, did not possess "any training", a requirement in the region.
The group stresses that the footage shows "what is never shown to the public" and hope that the video will show the Spanish public a glimpse of what goes on behind the scenes at controversial bull events.