FIVE people, with advanced signs of hypothermia, have been winched to safety from a liferaft after their boat burst into flames in the early hours of yesterday (Wednesday) morning.
The crew of the fishing boat, Roymar, took to a liferaft in total darkness after their vessel burst into flames off the coast of Galicia in northern Spain.
Spain's Salvamento Marítimo, maritime rescue service, and the coastguard service of Galicia were alerted at 1.13am and rushed to the scene.
The rescued crew were taken by helicopter to Celeiro where they received medical attention from a fleet of ambulances.
Meanwhile, attempts were made to control the fire on the boat to try and prevent it from sinking.
The efforts were unsuccessful and the boat finally sank just after midday.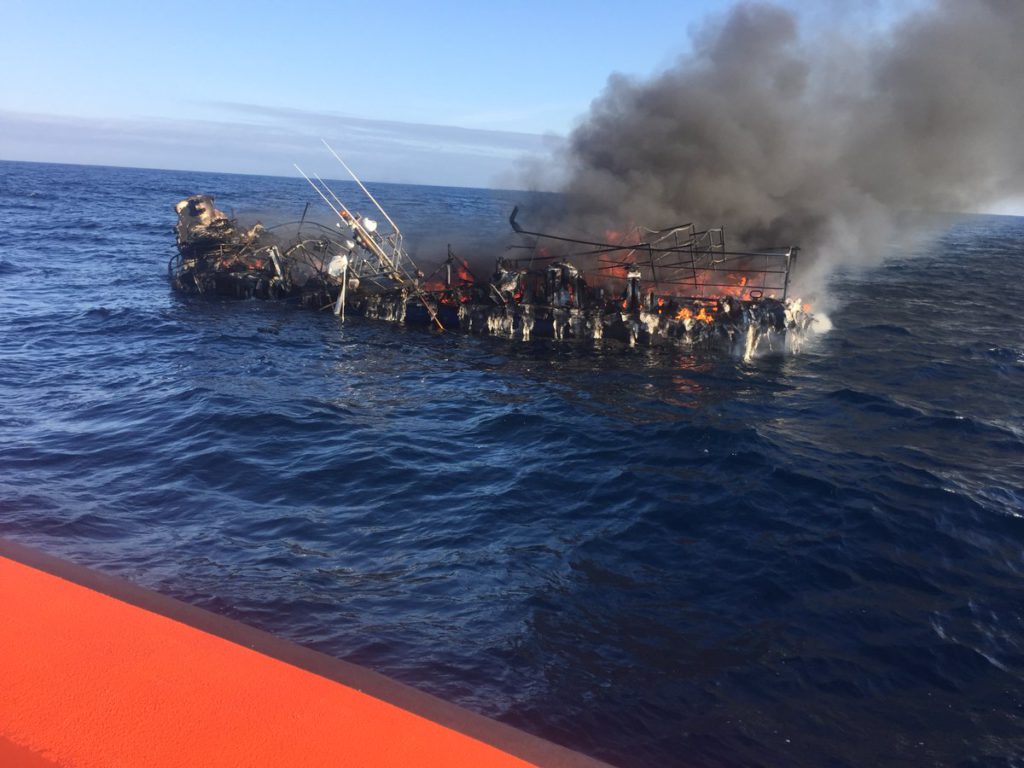 Imágenes del Roymar incendiado esta madrugada 30mn al norte de Burela. El helicóptero Pesca 2 de @GardacostasGal rescató a sus 5 tripulantes de una balsa. La S/Alioth y el buque Sar Gavia evaluaron la situación e intentaron sofocar el incendio. Finalmente se hundió a las 12.12h pic.twitter.com/V5v4Id6MEJ

— SALVAMENTO MARÍTIMO (@salvamentogob) September 19, 2018
Vídeo del incendio esta madrugada del pesquero Roymar al norte de Burela. Al final podéis ver la auxiliar del SAR Gavia sofocando el fuego con espuma. Los 5 tripulantes están bien, aunque su pesquero finalmente se ha hundido pic.twitter.com/Jd6RcFd6RL

— SALVAMENTO MARÍTIMO (@salvamentogob) September 19, 2018