ACCORDING to Spain's foreign minister Donald Trump, the President of the United States of America, has suggested building a wall across the Sahara Desert to tackle the influx of sub-Saharan migrants arriving in Europe.
Borrell claims President Trump proposed a wall similar in scale to the construction he has vowed to build along the United States-Mexico border.
Trump allegedly claimed a construction in the Sahara Desert would work well for Europe in managing the migration of sub-Saharans.
Borrell recently visited Trump in the United States in June in a trip that coincided with the Spanish royal families' trip to the White House and It has been reported that Trump's radical idea was shared during this time.
Borrell made these revelations at a lunch event in Madrid.  He claims he made it clear to Trump that he completely disagreed with the radical Saharan wall plan.
He does, however, feel more plans need to be put in place given Africa's population is projected to double over the next two decades.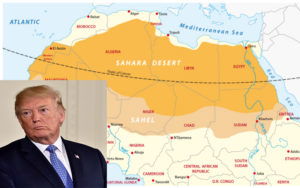 Spain recently overtook Italy and Greece as Europe's most popular entry point for African migrants.
Mustapha El Khalfi, a spokesman for the Moroccan government claims the North African nation prevented the entry of 65,000 migrants to Spain in 2017.