A WARNING has gone out to tourists in Spain following an alleged spate of robberies of jewellery and wallets by 'stealing and robbing prostitutes' on the Costa Blanca.
Footage shot by a video blogger, Harry-vlogs-Benidorm, has gone viral with more than 40,000 views in less than a day.
DEEL DEZE WAARSCHUWING met je Benidorm-vrienden : vlakbij de Engelse uitgaanswijk in Benidorm ( nota bene oa NAAST het toeristen politie-buro !!! ) staan op meerdere locaties verschillende groepjes best goed uitziende vrouwen die voornamelijk aangeschoten / dronken toeristen omhelzen / beetpakken met als doel je zakken te legen en je sieraden ( kettingen ) te stelen … Blijf ten alle tijden zover mogelijk van hen ! ! ! Ze zijn geraffineerd en vreselijk slecht … … voor je het weet is je ketting of portemonnaie gerold ! … …SHARE THIS WARNING with your Benidorm friends : stealing and robbing prostitutes near the Strip in Benidorm … NEXT to the tourist police-station !!! ( closed at night ! ) WARNING : stay far away from them !!! they pickpocket your wallet and are after golden necklesses … …Very bad creatures ! ! !

Geplaatst door BenidormLovers op Donderdag 13 september 2018



He told the Euro Weekly News that the video was shot close to the English 'guiri' district in Benidorm next to the tourist police station, which is closed at night.
Harry, a resident for five years, explained how the women try to hug or grab the mostly drunk tourists with the aim of emptying their pockets.
He warned, "Stay as far away from them as possible! They're sophisticated and terribly bad… before you know it, your jewellery or wallet or wallet has been robbed.
"They are very bad creatures."
On his Facebook page where he posted the video he wrote, "SHARE THIS WARNING with your Benidorm friends : stealing and robbing prostitutes near the Strip in Benidorm."
Harry said he has sent the footage to the Local Police and the Town Hall.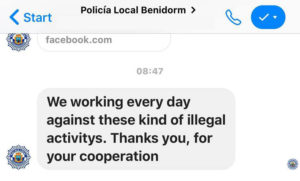 The police have already responded and he has been promised a response by the Ayuntamiento today (Friday).
The UK's Foreign Office travel advice to Spain says, "Most visits to Spain are trouble-free, but you should be alert to the existence of street crime, especially thieves using distraction techniques. Thieves often work in a team of two or more people and tend to target money and passports. Don't carry all your valuables in one place, and remember to keep a photocopy or scanned copy of your passport somewhere safe.
"Many people have their passports stolen while passing through airports, either on arrival in or departure from Spain. Take extra care to guard passports, money and personal belongings when collecting or checking in luggage at the airport, and while arranging car hire.
"In some city centres and resorts, thieves posing as police officers may approach tourists and ask to see their wallets for identification purposes. If this happens to you, establish that the officers are genuine and if necessary show some other form of ID. Genuine police officers don't ask to see wallets or purses.
"In any emergency, call 112. To report a crime, including stolen property and lost or stolen passports, visit the nearest Policia Nacional, regional police (Ertzaintza in the Basque Country, Mossos d'Esquadra in Catalonia, and Policia Foral in Navarre) or Guardia Civil Station to file a police report (denuncia). While in Spain, you can also call a dedicated English-speaking police line on +34 90 210 2112. If you've had belongings stolen, you'll need to keep the police report for insurance purposes. If your passport is lost or stolen, you'll also need the report to apply for an emergency travel document from the nearest British Consulate and to apply for a replacement passport when you return to the UK.
"When driving, be wary of approaches by bogus police officers in plain clothes travelling in unmarked cars. In all traffic-related matters, police officers will be in uniform, and all police officers, including those in plain clothes, carry official ID. Unmarked police vehicles have a flashing electronic sign on the rear window which reads Policía (Police) or Guardia Civil (Civil Guard), and normally have blue flashing lights. Genuine police officers will only ask you to show them your documents and will not ask for your bag or wallet/purse.
"If in any doubt, you should talk through the car window and contact the Civil Guard on 062 or Police on 112 and ask them to confirm that the registration number of the vehicle corresponds to an official police vehicle.
"Be aware of 'highway pirates' who target foreign-registered and hire cars, especially those towing caravans. Some will (forcefully) try to make you stop, claiming there is something wrong with your car or that you have damaged theirs. If you decide to stop to check the condition of your/their vehicle, stop in a public area with lights like a service station, and be extremely wary of anyone offering help.
The advice concludes, "Only use officially registered or licensed taxis."