High speed wireless internet in the Costa Blanca and the Costa Calida
aeromax® is the largest independent broadband operator on the Costa Blanca. For 13 years, this company has been dedicated to the transmission of data, more specifically to wireless Internet services in places where cables do not reach. It also offers telecommunications services such as landline telephone, mobile telephone products and IPTV.
aeromax® covers the entire Costa Blanca and part of the Costa Calida, from Cullera (north), to Cartagena (south) and bordering the province of Albacete. aeromax® mainly covers all rural areas, towns, urbanisations throughout the province of Alicante.
5G Fixed Wireless technology, one of the most advanced options in the wireless telecommuni-cations sector, allows aeromax® to provide its customers with high-speed Internet where the cabling infrastructures are not available, which is why the company offers services of Internet speeds up to 100 Real Megas, this way its clients can enjoy services comparable to those of the Fibre Optic but with better benefits.
aeromax® has always been characterised by thinking about the needs of all its customers, for this reason, it has created a large range of services designed for each of its customers:
aeromax® i. This is the classic fixed-line Internet service at home. Customers can choose be-tween nine products of different speeds ranging from 3 Megabytes to 100 Megabytes with unlimited download, as not everyone makes the same use of the Internet.
aeromax® x. Unlike aeromax® i, it has a series of ideal characteristics for people who have a second home or holiday home: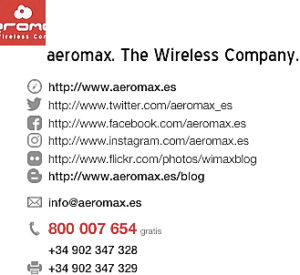 Automatic on / off (it is not necessary to previously notify the company for activation)
Post – automatic payment per days used
aeromax® m and aeromax® v. These are the telephony products of aeromax®, depending on the rate, the customer can make unlimited calls to other countries at more than competitive prices.
To check your coverage with aeromax® or for more information about aeromax® The Wireless Company, please visit their website or social networks (Facebook or Instagram). The international aeromax® team will assist you in your language.
Contact: Ana Irles Antón, Sales Manager.
[email protected] – 694 425 939