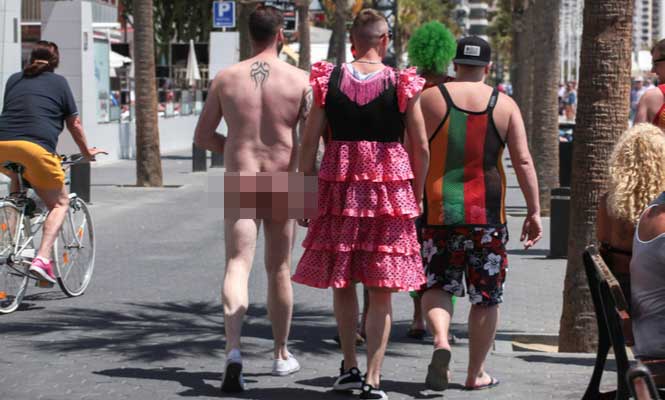 AFTER an uproar from locals, another region of Spain has vowed to crack down on the rising number of stag dos and hen parties and the problems they bring.
Weekends in some of Andalucia's main cities have become popular sites for 'stags' and 'hens' to hold their pre-marital celebrations.
Ease of access through high-speed trains, bargain apartment prices and even readymade entertainment bundles available to purchase online have caused the number of 'stag dos' and 'hen parties' in the region to soar in recent times.
High-spirited groups normally clad in outrageous fancy dress are a frequent sight for locals across Sevilla, Malaga, Granada and Cordoba and the revellers' drunken antics have led to multiple reported anti-social behaviour incidents.
Ana Muñoz, spokeswoman for the Granada government recently labelled the parties as "outrageous" and meetings have been held to take action on the send-off weekends.
Muñoz added, the city "doesn't need to put up" with group celebrations of this nature.
Granada has even commissioned specialist officers to patrol the streets from Thursday to Saturday with the specific task of keeping an eye on stag and hen party tourists.
Now actions are being taken to quash the parties in Malaga too. Francisco de la Torre, Mayor of Malaga has announced greater police presence on the streets during weekends to keep drunken behaviour from spiralling out of control.
The hospitality sector of Cordoba has actively moved to deny bookings for groups celebrating stag parties choosing instead to prioritise "high-end tourism that appreciates and enjoys" the cultural aspects of the city.  Citing too that the unwanted tourism disturbs "people's peace at night".
Local authorities point the finger at online promotions for the recent increase surge in stag and hen parties in the region.  Package deals encourage revellers to flood these cities in large groups for discounted food and drink and preset itineraries to lure the unwanted tourists to Andalucia.