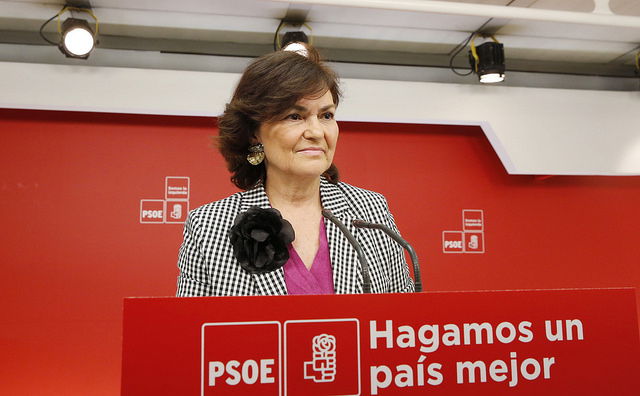 VICE-PRESIDENT Carmen Calvo's was the voice of reason when she remarked that an "unacceptable phrase was not an attack on the Spanish state."
She was referring to declarations from Cataluña's regional president Quim Torra who is not renowned for honey-tongued oration, particularly when referring to the national government.
Pablo Casado, the Partido Popular leader who proudly refuses to give an inch over reformed terrorists or Cataluña, fell on her statement like a ton of the bricks used to build monuments to the past.
Casado urged Calvo to "fulfil her obligations and defend Spain" presumably by returning to the abrasive authoritarianism that was the former government's default mode and took Mariano Rajoy up a one-way street.
Torra was equally offended at Calvo's dismissal of his claim that his government did not need to defend itself and should instead attack "an unjust state."
Pedro Sanchez, who continues to insist that Cataluña requires a political and not a judicial solution, refuses to rise to the bait.
And as every parent knows, ignoring tantrums has always been the best way to get the better of a fractious child.
Where the bodies are
JOSE LUIS VILLAREJO is a pensioned-off police commissioner now imprisoned on remand.
During 10 years' leave of absence between 1983 and 1993 he made a multi-million fortune with a network of detective agencies.  What better sideline for a high-ranking police officer than working for public bodies, commercial companies and private individuals?
On Villarejo's return to active duty he worked undercover for the Ministry of the Interior and was involved in Jorge Fernandez Diaz's "dirty war" discrediting Catalan politicians.
His name pops up in practically every Spanish scandal including the recently-aired tapes where Juan Carlos I's former mistress claims that the Rey Emeritus got rich on commissions and has black money sheltered in tax havens.
Villarejos has also tried to conceal his wealth and is charged with money laundering and involvement with a criminal organisation.
Even now he could still beat the system as the Public Prosecutors investigating his illegal activities have challenged the investigating judge's decision to lift the case's gagging order.
Information contained in Villarejos' impounded documents and files could put "the institutions" at risk and even the compromise the "safety of the State" they warned.
The retired policeman has always been a smooth operator.  And of course it always helps, knowing where the bodies are.
Fat chance
A RECENT analysis of 1936 data on 21-year-old army conscripts living in Madrid revealed that young men from the working class district of Vallecas were three centimetres shorter than those from classy Salamanca.
The postcode says it all before the anthropologists can get a word in edgeways, but what would a similar survey say today?
No doubt it would find that 21-year-olds in Vallecas are as tall as those in Salamanca but much, much fatter.  The more slender your means these days, the wider the girth.
Bad test result
ABDELBAKI ES SATTY, the late imam of Ripoll who blew himself up on August 16 last year, was behind the Barcelona massacre of August 17.
Like many jihadists, he was imprisoned on drug offences and between 2010 and 2014 he was visited four times by agents from the CNI, Spain's intelligence service.
According to reports in the Catalan media, they considered getting him onside but he failed the psychological tests necessary to become an informant, which was probably fortuitous.
As Osama bin Laden ably demonstrated, jihadi collaborators show little loyalty to their paymasters.