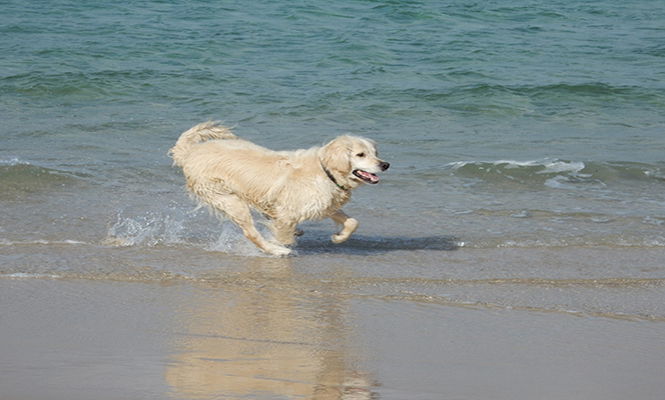 Keeping dogs cool in the heat
Whether as a pet owner or a sitter we need to be mindful of temperatures every Summer. There are lots of signs that pets are not happy in the heat, some go off their food, others find a shady spot and hide for as long as they can. Here are some tips for caring for dogs in the heat:
Feed them early if you can when the temperature is still cool
If you walk dogs daily, walk them early or late, to avoid the hot ground and the hot sun
Always make sure they have access to fresh water, take a bottle with you if you're walking
Put ice cubes in their water dish to keep it fresh
Offer a wet towel for the dog to lay on, or if you can a cool paddling pool
Be mindful of humidity in your home, they may not be able to pant themselves cool if it is too high
How we work
All new members register to join our online HouseSitMatch network. On registration we ID check every new member to ensure we know who you are, and in addition sitters are police checked by us.  We charge for membership to ensure that there is a commitment from both parties and that we can afford to manage our network online professionally.
How you benefit as a home and petowner
Our membership offers you a secure network to help you find suitable sitters. We don't reveal your contact details, or your address. You post an advert ahead of your travel dates, we publish the advert then housesitters apply. You can view their profiles and chat with them before you accept your choice of applicant. If you join as a Premium member we can also help you at each stage of the process to get you started and to manage your account.
How you do join?
Please register online via our website www.Housesitmatch.com
Choose a membership plan

Standard (DIY option) = £49 pa
Premium (with support at each step) = £79 pa
Do you need a house or petsitter? Get in touch. House-sitting can be a win-win for both parties, free house and petsitting, and the experienced and checked sitters get free accommodation!  Register as either housesitter or homeowner with a 20% discount using coupon code P2020 – an exclusive offer for readers.  To find a house pet-sitter go to www.HousesitMatch.com