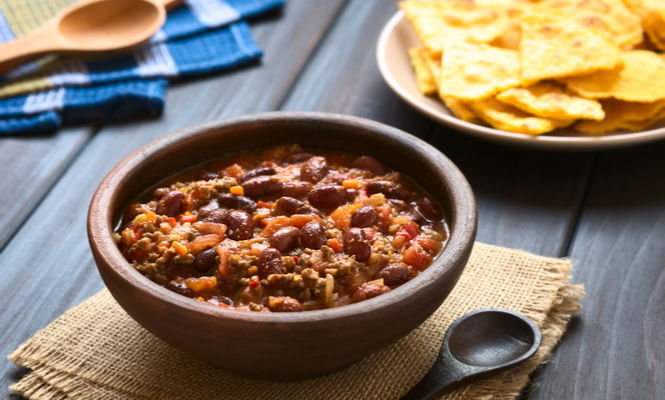 THIS WEEK: I will discuss everyone's favourite vitamin; Vitamin C.
Vitamin C:Ascorbic Acid
Necessary for the production of collagen in the body (collagen holds the cells of the body together and is necessary for wound healing). Humans cannot synthesise it within the body like other animals can, so it needs to be present in the diet on a daily basis. It is present in all citrus fruits, tomatoes and their juices, red and green peppers, potatoes and green leaved vegetables. It is destroyed when heated, but one small glass of fresh citrus fruit juice will provide more than the minimum daily requirement. Deficiency results in the disease: 'Scurvy,' the symptoms of scurvy include; bleeding gums, loosening of the teeth and wounds not healing as they should. If untreated, it will result in death. Cheerful stuff!
I hope this week's recipe makes you feel more optimistic? It is a luxurious version of an old favourite.
Chilli con carne
Serves 4
1 whole, large onion; chopped
4 whole garlic cloves; chopped
2 whole red chilli peppers (or more if you like heat); sliced
1kg minced beef
125ml red wine
2 whole beef stock cubes
2 teaspoons ground cumin
500 grams cherry tomatoes; halved
3 teaspoons black peppercorn, freshly ground
2 teaspoons salt
1 can red kidney beans, drained and washed
juice of 4 whole limes
1 whole, large green pepper; chopped
1 large bunch of cilantro; finely chopped
2 tablespoons cream cheese
250 grams red Leicester cheese; grated
8 tortillas.
Place onion, garlic, red chilli and ground beef in frying pan.
Dry fry until beef browned and other ingredients cooked through.
Add red wine, beef stock, cumin and simmer for 10 minutes.
Add cherry tomatoes salt and black pepper and cook to reduce until sauce thickened.
Add the red kidney beans and simmer for another 10 minutes
Add lime juice and simmer for 2 more minutes, add cilantro, stir once.
Check and add seasoning if necessary.
Place tortillas on to a lightly oiled oven tin, place chilli con carne on one half of each tortilla, place cream cheese on top, followed by the red Leicester. Fold the tortilla to enclose the chilli/cheese mix.
Place in an oven, pre-heated to 200 Celsius (fan oven), 180 Celsius (no-fan) for 10 minutes.
Serve.
Hint: Substitute red or yellow peppers for the green, or a combination of any two or three.
Tip: To avoid wasting unused chilli peppers, place in a shallow bowl in the sunshine until they dry out completely and then store in a sealed jar.  Use scissors to cut them when they are needed and add to the sauce at the beginning to allow them to rehydrate.