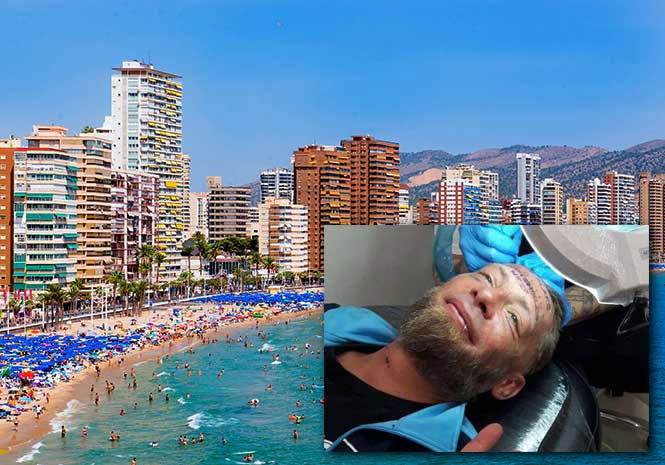 THE 'vulnerable' young Polish man who hit the international headlines when he was paid €100 to have a man's name tattooed on his face has decided to end his drink problem treatment and return to Benidorm.
Tomek has decided to walk out of the alcohol rehab treatment centre that was organised for him by Benidorm's British Businesses Association, who also raised funds for the removal of the tattoo from his face.
The association said, "It is with great disappointment that we have to announce that Tomek has decided to end his treatment and return to Benidorm.
"When he returns we will arrange for tattoo removal and, of course, use the funds only for the purpose of his health.
"We would like to thank everyone especially Alcoholicos Anonimos 24 horas who have offered Tomek the opportunity to rehabilitate his life offering not a week but up to two or three years of assistance and help without asking for anything in return.
"They are also disappointed but understand that it not an easy road to give up after spending so much time on the streets and alcohol abuse.
"They have also left the door open if Tomek wishes at any point to return.
They added, "We would also like to thank all of those who with kind words and donations have supported Tomek."
Karen Maling Cowles, president of the Benidorm British Business Association, on her own Facebook said, "You can lead a horse to water… springs to mind."
Also writing on social media Karen Hanson said, "What a shame, these opportunities don't always arise when needed… even so I wish Tomek well."
Lorraine Mccorry added, "It's a rocky road to recovery. I wish him well and hope that he decides to go back to get more help."
Shirley Proud said, "Hope he changes his mind and gets the help he needs poor guy!"
Lisa McGuinness claimed, "Benidorm is the worst possible place for a drug or alcohol addict to live because both are so cheaply and readily available. If you are susceptible to that lifestyle it's a very slippy slope living in Benidorm."
"Hope Tomek has a rethink, and asks for the help that is available to him" pleaded Alastair Livingstone.
And Lorraine Moore added, "That's so very sad but maybe in the future he will decide to try again. I wish him all the best and hope one day he can beat the demons."
Tomek denied claims it was a stag do group who persuaded him to have the name Jamie Blake tattooed on his forehead. He said he was with a solitary Englishman when he decided to accept the cash because it felt like a "lottery win" at the time.