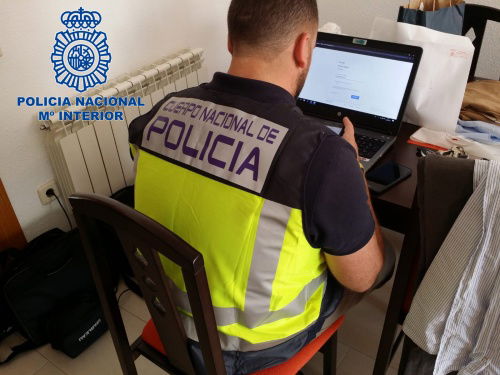 NATIONAL Police officers have prevented the suicide of a child who was being sexually harassed through the Internet. 
An international operation between Spanish officers, US Homeland Security Investigation (HSI) and Guatemalan police has led to the arrest of two people who cyber-stalked dozens of young people around the world. 
The two arrested contacted the children via the Internet from Guatemala and, after gaining their trust, requested pornographic material about themselves. As time went by, the young people had to send more explicit images. 
HSI intercepted communications between a minor and a dangerous sexual harasser in which the victim from Catalonia told of his intention to commit suicide because of the pressure he was under. 
The US agents found that the alleged harasser lived in Guatemala and informed the Guatemalan authorities. 
Subsequently, National Police officers specialising in cybercrime received an urgent communication from the Prosecutor's Office investigating crimes against minors in Guatemala. The victim who wanted to end his life resided in Spain and needed to be located urgently. 
A rapid investigation led to the victim's identity being established in just a few hours. 
Police in the victim's hometown launched a search for the child and quickly found him wandering the streets and thus prevented his suicide. The mother of the child told the officers that she had noticed abnormal behaviour in her son but did not know that the problem was so serious. 
Guatemalan police then raided the harasser's home, but he and an accomplice escaped. A search revealed the duo had been harassing dozens of children around the world. 
Months later, the Catalan child was again sexually harassed through the Internet. Family vigilance prompted them to report the matter to police who forwarded the information to the Guatemalan police as the harassers were the same individuals who had earlier escaped. 
This time they were found, arrested and have since been jailed. 
Spanish National Police is teaching the Cyberexpert programme in schools, which aims to train children in the safe use of social networks and to raise their awareness of the risks they may encounter in the daily use of new technologies and the Internet. For more information, visit www.ciberexperto.org