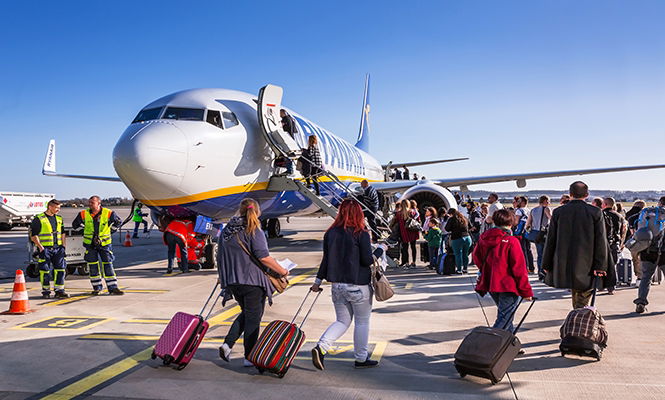 RYANAIR is being called to account for their new carry-on luggage rules by the Spanish government and a leading consumer group in the country.
The low-cost Irish carrier recently announced new regulations that are due to come into effect on November 1.
But a Spanish government minister has called for a meeting with the airline to 'ensure that European and national legislation is complied with.'
The Minister of Development, Jose Luis Abalos, called for the meeting on his Twitter account, in which he stressed that this is a matter regulated both at European level and by national legislation and, therefore, must be fulfilled.
In addition, the leading Spanish consumer association, FACUA, has also blasted the airline's new policy.
FACUA-Consumidores en Accion says Spain's Law of Air Navigation allows people to bring all hand luggage onto planes for free unless it is too heavy or too big in relation to the size of the plane.
They quote article 97 of the Ley de Navegacion Aerea as saying: "The transport provider will be obliged to transport free of charge in the cabin, such as hand luggage, the objects and packages that the traveller carries with them.
"The only exception to deny transportation is safety reasons, linked to the weight or size of the object, in relation to the characteristics of the aircraft."
A Ryanair spokesperson said, "These claims are clearly false. No airline allows all passengers to bring all their bags on the aircraft."
Currently only Ryanair's priority boarding passengers have the luxury of taking two hand luggage items aboard.
Normal (non-priority) passengers may take only one item of hand luggage aboard, but a second item can be stored below the plane in the hold free of charge.
But this is about to change as from November 1, non-priority flyers will be required to pay extra for any second item.
The price per additional item will be £8 and the maximum weight will be ten kilos.
However, the changes to cabin bag policy could present some positives to passengers that prefer to check smaller bags in the plane's hold.
The new £8 charge will offer a much cheaper alternative to the current £25 charge to check backs up to 20 kilos.
One option for those planning to check a second bag would be to opt for Ryanair's £6 priority boarding plan upon purchasing tickets, giving passengers the option to carry-on two bags into the cabin for free.
Those who already have flights booked with Ryanair after November 1 will still be expected to cough up the additional money if they arrive with a second item of hand luggage.
Ryanair claim the new policy will "speed up the boarding and cut flight delays", attributing the lengthy process of checking second items of hand-luggage into the hold for free is the main cause for delays for the airline.
El Ministerio de @Fomentogob se reunirá con Ryanair para conocer su intención de cobrar el equipaje de mano. Es una cuestión regulada tanto a nivel europeo como por la propia legislación nacional, por lo que debemos velar por su cumplimiento.

— José Luis Ábalos (@abalosmeco) August 29, 2018
FACUA advierte de que la Ley de Navegación Aérea obliga a facturar gratis el equipaje de mano https://t.co/bRpug4TbJS pic.twitter.com/NbNKfYGAX6

— FACUA (@facua) August 27, 2018