SPAIN'S annual national cycle race spun into action yesterday (Saturday) with the first of 21 stages that will cover a total distance of 3,254.7 kilometres (2,022 miles).
Running from August 25 to September 16 the first stage was a time-trial in Malaga on the Costa del Sol.
The official departure of La Vuelta 2018 was the Spanish tour's 30th visit to Malaga. The first one took place in 1936, during La Vuelta's second edition, where it hosted both a finish-line following a departure from Sevilla, and a departure that headed towards Granada.
Rohan Dennis (BMC Racing Team) is the first leader of La Vuelta 2018.
The Australian champion covered the 8km course in 9minutes 39seconds, six seconds faster than Michal Kwiatkowski (Team Sky) to become the first non-European rider to win individual time-trials on all three Grand Tours after already doing so on the Tour de France and the Giro d'Italia.
Today Dennis will have to defend his red jersey en route to the Caminito del Rey, the first uphill finish of La Vuelta 2018.
Dylan Van Baarle (Team Sky) was the first rider to break the 10-minute barrier (9m59s). He then sat on the hot seat for almost two hours as the sun was slowly setting down on the Mediterranean coast.
Team Sky still had strong cards up their sleeves and Michal Kwiatkowski proved he comes to La Vuelta in top shape with a time of 9m45s.
This year's La Vuelta will comprise:
6 flat stages and 2 flat with high-altitude finales stages
6 hill stages
5 mountain stages
2 individual time trial stages
Distinctive aspects of the race
40.7 km individual time trial
46 summits
2 rest days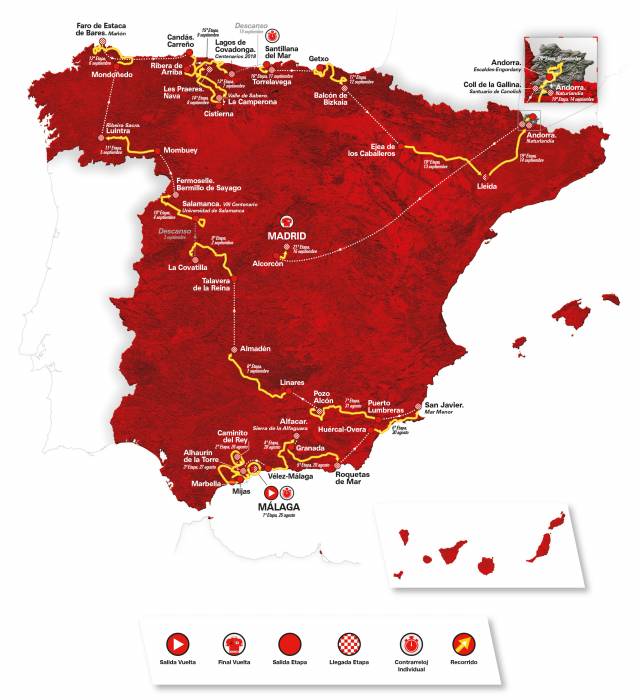 There will be 19 new start and new finish towns and cities:
Alhaurín de la Torre (finish of Stage 3)
Vélez-Málaga (start of Stage 4)
Alfacar. Sierra de la Alfaguara (finish of Stage 4)
Huércal-Overa (start of Stage 6)
San Javier. Mar Menor (finish of Stage 6)
Pozo Alcón (finish of Stage 7)
Almadén (finish of Stage 8)
Fermoselle. Bermillo de Sayago (finish of Stage 10)
Mombuey (start of Stage 11)
Mondoñedo (start of Stage 12)
Faro de Estaca de Bares. Mañón (finish of Stage 12)
Candás. Carreño (start of Stage 13)
Les Praeres. Nava (finish of Stage 14)
Ribera de Arriba (start of Stage 15)
Santillana del Mar (start of Stage 16)
Getxo (start of Stage 17)
Balcón de Bizkaia (finish of Stage 17)
Ejea de los Caballeros (start of Stage 18)
Alcorcón (start of Stage 21)