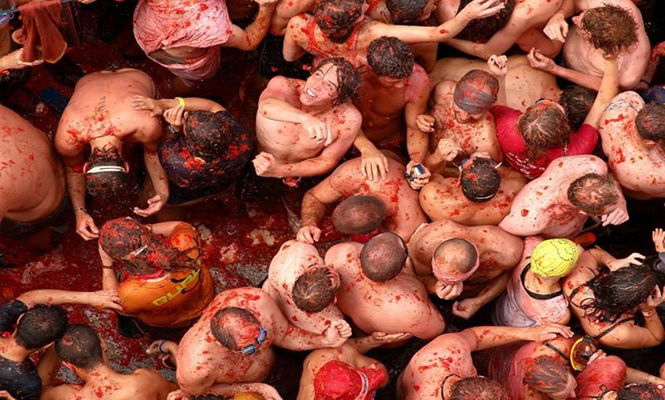 SPAIN'S world-renowned La Tomatina tomato flinging festival is making its way to London this week.
La Tomatina is, simply put, all-out tomato warfare, during which tens of thousands flock to launch the little red fruits at each other.
Traditionally the event is held on the last Wednesday of August and draws in participants from all over the world.
Legend has it, that the festival originated in 1945 after a fruit stall fell over during a parade in Buñol prompting a tomato flinging food fight. 
The food fight was recreated for years to come to commemorate the events of that day.
Although once banned in its classic home of Buñol in Spain, the festival made a strong comeback as has since become an iconic tradition in the nation's calendar of celebrations.
Now a La Tomatina event is planned for London on Saturday (August 25). Spanish eatery, Aqua Nueva, on Oxford Street is to host the tomato-based fun.   
Once there, attendees will be given ponchos, armed with tomatoes and encouraged to join in the messy mayhem. 
The tomatoes sourced for the event are always those that would have gone to waste if not used and after the tricky clean-up has taken place, all leftovers are sent to a compost heap.    
Credit:Kara and Nate/Youtube