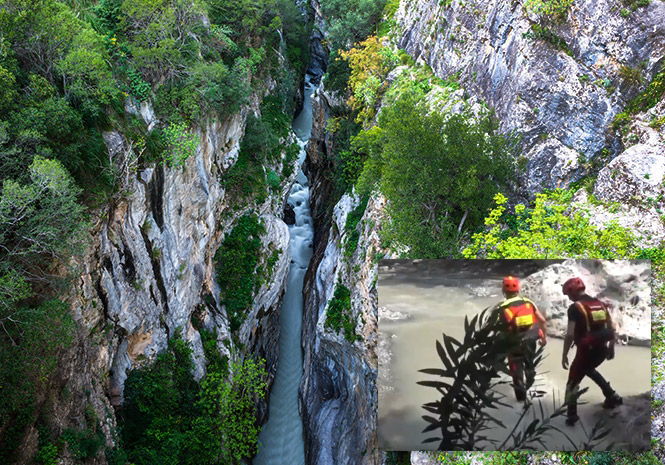 A MAJOR rescue effort, including helicopters, is underway to find survivors after a deadly 'avalanche of water' swept at least eleven hikers to their deaths in the Raganello Gorge in Italy.
At least another five people are still missing, but the total could be higher because not all had entered gorge with guides and visitors do not need to register.
Officials said 23 people had been rescued after 8ft (2.43m) of water suddenly filled the gorge which is very popular with tourists.
Quoted in local media, a Dutch tourist said: "A real avalanche of water came unexpectedly. We did not have time to do anything. I was lucky, it was an incredible thing."
Locals say the gorge regularly floods in the winter but never before in the summer.
#Civita (CS) #21ago 13:30, rintracciate in altra zona le persone date per disperse. In assenza di altre segnalazioni, proseguono a scopo cautelativo le perlustrazioni da parte dei #vigilidelfuoco. Immagini dell'intervento sono disponibili su https://t.co/39yWOHsswT pic.twitter.com/BqnDfEMwgn




— Vigili del Fuoco (@emergenzavvf) August 21, 2018
#Castrovillari (CS), sono proseguite per tutta la notte le ricerche di dispersi sul torrente #Raganello, sono 5 al momento quelli segnalati. Il bilancio è di 10 persone decedute, mentre 14 sono state salvate dai #vigilidelfuoco. Nel video uno dei recuperi fatti ieri da #dragovf pic.twitter.com/8cVakvtMfP

— Vigili del Fuoco (@emergenzavvf) August 21, 2018



Torrente #Raganello loc. Civita di #Castrovillari (CS): 14 escursionisti salvati dai #vigilidelfuoco, recuperati alcuni corpi purtroppo senza vita. Impegnati nelle operazioni nuclei speleo-alpino-fluviali, soccorritori acquatici, sommozzatori ed elicottero #dragovf pic.twitter.com/k3xHRjia25

— Vigili del Fuoco (@emergenzavvf) August 20, 2018