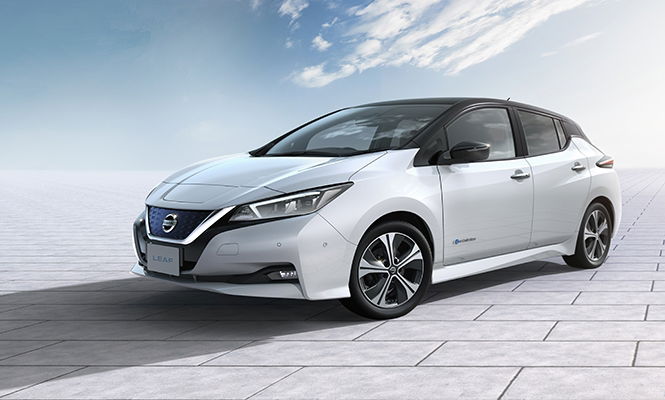 THE NISSAN LEAF is the world's top-selling electric vehicle and in Europe alone one is sold every 10 minutes, underlining the distinct shift towards zero-emission cars.
The latest version of the Leaf is more powerful, loaded with more technology and has a much greater range – up to 378 kilometres (235 miles) on a single charge. Power comes from a 148 hp electric motor mated to an automatic gearbox and performance is comparable to most 'conventional' cars – 0-100 kph in 8.5 seconds, top speed 161 kph (100 mph). However the big difference is zero emissions and no petrol or diesel costs.
The stated 378 kilometres on a single charge is in ideal conditions – more typically 240 kilometres (150 miles) is more likely in real-world driving. Quick re-charging to 80 per cent power can take just 40 minutes, though full charging is several hours.
New Leaf has more eye-catching styling, much more standard technology, especially connectivity, which includes Apple CarPlay and Android Auto. You also get other kit including alloy wheels, front and rear reversing sensors, and auto lights and wipers on most versions. There are several trim levels and in Spain prices start at €32,800. (In the UK, from £25,190 including Government grant).
Technology is at the heart of the Leaf, which has ProPILOT advanced driver assistance using the steering, braking and acceleration to assist the driver within single lane, low speed traffic and highway cruising scenarios. In slow moving traffic it enables the New LEAF to autonomously slow down and stop where traffic flow ceases. It will then start to follow the car in front when the flow resumes.
It is also equipped with e-Pedal, which allows drivers to start, accelerate, decelerate and stop – simply by increasing or decreasing the pressure applied to the pedal. All this means drivers will take a little time to familiarise themselves with the driving modes, but once mastered, you start to think all cars should be like this!
Driving a Nissan Leaf is a pleasant experience. You just press a start button, select D for drive and off you go. The first thing you notice is the near-silence! It is very comfortable with supple suspension, light-touch steering, and assured cornering. It is also agile to park.
Nissan says the new Leaf – a 5-seat hatchback with a large 435-litre boot – should no longer be viewed as just a local runabout because its improved range means it can be used for longer journeys.  Soaring sales indicate this message is certainly getting across.
Model tested was UK-specification and equipment levels and prices may vary in other markets.
Stats panel:
Model: Nissan Leaf
Engine: Electric motor
Transmission: Automatic
Performance: 0-100 kph 8.5 seconds, top speed  161 kph (100 mph)
Economy: range up to 378 kilometres (235 miles)
Emissions: zero-emissions