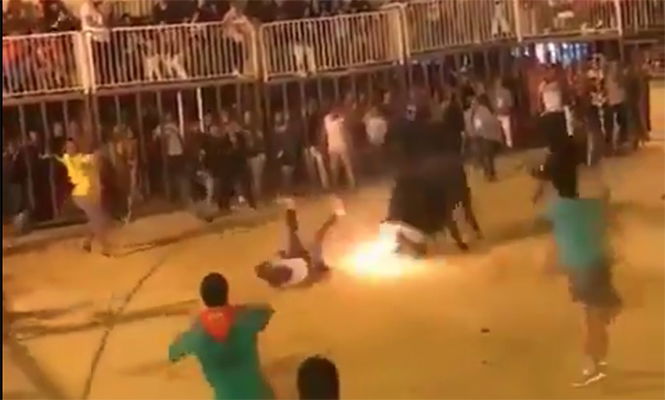 THE moment an unnamed tourist was trampled, flipped and gored repeatedly during a bull-fighting festival in the village of Ademuz, Spain has been captured on video.
The 45-year-old man ran out from behind the protective barricades and into the bull's path .
Footage shows the bull, that had burning materials attached to its horns, gore and trample the tourist repeatedly. 
The man was tossed into the air multiple times as other spectators desperately tried to distract the bull..
Severely injured, the man was taken to a hospital in Zaragoza and spent the night in an intensive care unit but he is expected to survive his run-in with the bull.
The tourist was "not a rookie" to the event according to a spokesperson from Ademuz Town Hall.   
They added that the amateur bull-fighting enthusiast "usually comes at this time" to celebrate the local 'Bous al Carrer' (Bulls on the street) event.
 Viewer discretion is advised as the video clearly shows the man on the receiving end of a severe goring:
En Ademuz/Valencia maltratan un toro. Maltratar por diversión tiene consecuencias. Mirad como actúa el toro. pic.twitter.com/mcKXLbzp0U




— SOS-Arraijanal (@SArraijanal) August 19, 2018