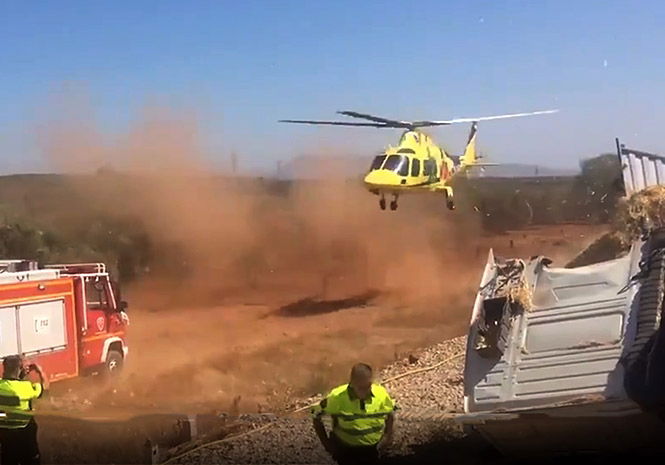 A RAILWAY line has been closed after a passenger train smashed into a lorry on a level crossing in Andalucia this afternoon (Tuesday).
The train from Sevilla to Malaga struck a lorry at a level crossing.
Emergency services and an air ambulance have been despatched to the scene of the accident and four injuries have been reported.
The track between Bobadilla and Fuente de Piedra has been closed confirmed railway infrastructure company ADIF.
It is reported that the two people travelling in the lorry have sustained serious injuries and there are also injured passengers including a pregnant woman.
An air ambulance is at the scene alongside firefighters and police officers.
Train accident, near bobadilla / spain pic.twitter.com/6JSNt22LGU

— Caroline Grandjean (@GdjCaroline) August 21, 2018
La circulación entre Bobadilla y Fuente de Piedra se encuentra interrumpida por interceptación de la vía en un paso a nivel.




— INFOAdif (@InfoAdif) August 21, 2018
Los trenes en este tramo pueden circular por una vía alternativa.

— INFOAdif (@InfoAdif) August 21, 2018
17:20 Media Distancia 13907 Málaga-Sevilla suprimido por incidencia en la circulación de esa línea. Los viajeros de trayecto directo serán transbordados a Avant 8784 y viajeros de paradas intermedias a MD 13945 desde Antequera Sta. Ana.

— InfoRenfe (@Inforenfe) August 21, 2018