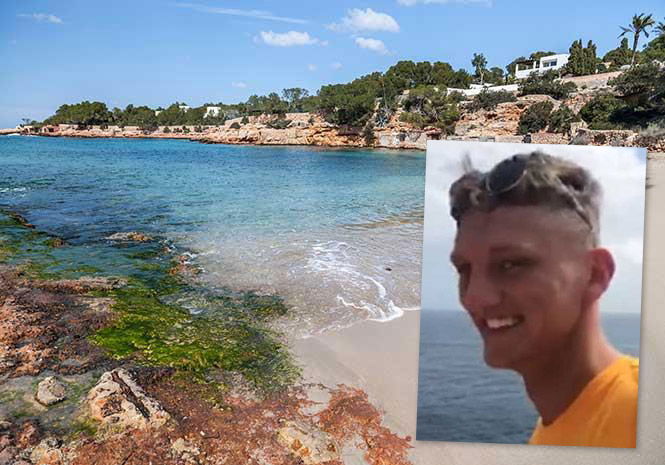 THE family of a young man who died while celebrating his 24th birthday in Ibiza has travelled to Spain to collect his body.
Paul Gardner, a dental technician from Newcastle, was pulled from the sea at the Cala Gracio cove near the party resort of San Antonio on Tuesday but was pronounced dead at the scene.
The family has said Paul did not die after falling and hitting his head on the rocks or suffering from a heart attack as was originally reported.
They say that, instead, Paul and a group of friends had jumped into the sea from rocks but he got into trouble on the swim back to shore and swallowed water that made him vomit, blocking his airways and causing him to lose consciousness.
The family has released a video of Paul just prior to the jump to highlight the dangers of leaping into the sea and the importance of learning basic first aid skills such as CPR, which could have saved Paul.
"We had a small clip of Paul just before the jump which we want to release just to highlight the problems.
"It's really a warning to any young kids thinking of doing it.'
Paul's stepfather Billy Ions, 49, said, "It was a tragic accident.
"It was the strength of the sea that killed Paul, not hitting the rocks, and the fact that he was the only one of his friends who knew CPR.
"He was such a good boy, he did not have a bad bone in his body and was so intelligent, he was going to take a year off at Christmas to go travelling in Australia, that was his plan.'
"You never think something like this can happen to your family, it's just unbelievable.'
Family and friends have paid tribute to the 'intelligent' and 'caring' young man and that and that 'he did not have a bad bone in his body.'
His mother Carla posted a family picture after his death with the words: "Love you infinity my bairn."
"Paul is the type of person who would have wanted that, if it just saves one person or get one person to get trained in CPR, it will be a positive thing."
The Civil Guard police said the ongoing investigation points to the man being victim of a "freak accident".
Paul is the fifth British person to die in the party resort this year.