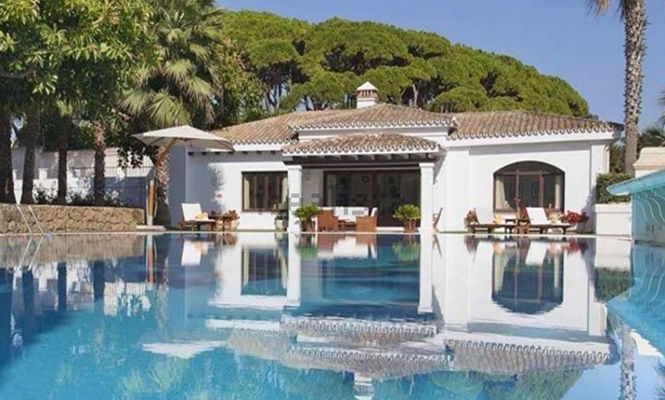 A MAGNIFICENT villa on the beachfront of Las Brisas, Marbella has been announced as Spain's most expensive property.
This luxurious living space has been named in a new study conducted by property website Idealista as the priciest home in the country, with a price tag of 50 million euros.
This astonishing listing offers 6,663 square metres of pure excess, including six suites and an additional two guest houses within the confines of the property.
The quiet location of the villa offers a long winding driveway and a magnificent garden space. 
Credit: Idealista
Upon entering the property, visitors are welcomed by a dual staircase that hugs the cream coloured walls of the building.
Credit: Idealista
 
The enormous kitchen space contains an industrial arsenal of cooking equipment and could easily fit a large team of professionals for catering services.  
It is equipped with its own spa and treatment centre as well as a private gym. 
Credit: Idealista
For the colder winter months, the villa offers an underfloor heating system which can keep the vast expanse of typical Spanish floor tiles toasty during even the coldest days of winter.
The pool stretches for almost 30 metres and is coupled with a set of Turkish baths for the full spa experience.
Credit: Idealista
The Costa del Sol is also home to the studies second most expensive house, a 35-million-euro palace located in Chaparral, Mijas. 
The list reflects the might of luxury property development on the Costa del Sol, which is all too evident as 6 out of 10 of Spain's most expensive homes are found within the region.