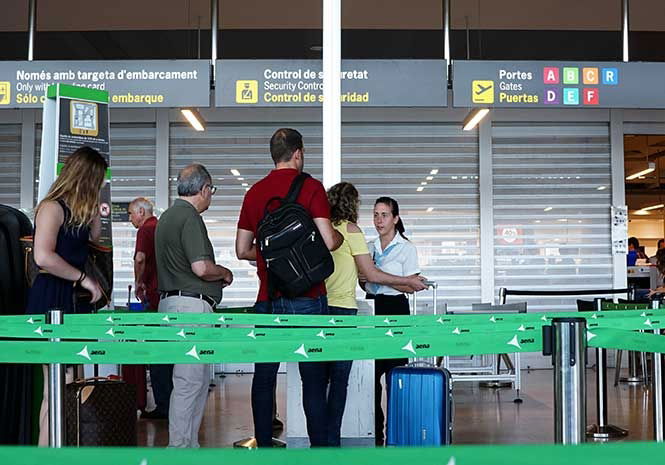 MORE and more people are taking to the skies these days rather than hitting the road for their summer holidays thanks in part to the excessive price of petrol and new low-cost airlines.
Flying to your holiday destination is a quick and convenient way of getting to your place in the sun but it does come with its drawbacks.
While we can do nothing about air traffic controller strikes or Ryanair cabin crew asking for better working conditions, we can give you some useful tips about how to breeze through airport security.
In order to make your experience at the airport as hassle-free as possible, the people over at Palma airport guide have put together a few tips that will help you get through airport security like a pro.
The first thing to do is to consider when you want to fly and while early morning or late night flights can cause a disruption to your normal routine, it is a known fact that there are fewer people travelling at this time of day which, of course, equates to shorter lines!
It is common fact that under current guidelines we can't take liquids above 100ml with us on the plane, yet surprisingly many still get stopped and delayed for either forgetting this or not realising that toothpaste, makeup and water are common causes of getting stopped at security. Of course, buying a bottle of water after the security screening you are more than welcome to take it with you on the flight.
There is nothing worse than having to wait in a long line only to have the person in front of you fumbling to find their passport and boarding pass. When it comes to your turn to be checked, be ahead of the game and have your boarding pass to hand at security and your passport open on the photograph page later at boarding.
Nowadays, thanks to technology many people have their boarding pass on their smartphones and while this is convenient, we have all had our batteries die on us when we needed the phone most. To avoid a huge delay and an extra cost, print out a copy of your boarding pass as a backup just in case.
We may be aware that all electronic devices such as laptops need to be screened separately from your carry-on, but unlike the majority of folks, why wait until security to remove them & lose your place and the queue! Be sure to take them out of your bag before you get to the screening trays.
How many times have you found yourself wishing that you had got in a different line after you notice all other lines appear to be moving faster?
You can beat the odds by always selecting the line to the left. Most people are right-handed and naturally move towards the line on the right. Also, have a glance to see if there is some training going on as that line is sure to move slower than the rest as a new employee learns about what the job entails.
Families with young children may never have flown before. If you are on an urgent mission to get to the airport lounge, you may want to become a queue observer. A tip here is to look for a line full of business travellers as they will have gone through the procedure many times and know the ropes, ensuring fewer hold-ups.
Reduced mobility passengers at Mallorca Palma airport need not have any further delays than what is expected. Ensure that the airline is contacted well in advance and your personal needs are discussed and arranged well ahead of time. The best advice here is, do not expect others to know your circumstance before your trip unless you advise them ahead of time. With a little advance preparation, assistance can be arranged to help make your trip & flight a safer and a more comfortable one.
What about the 'dreaded' airport x-ray machine? How many times have you seen see security instructing people to go through to get x-rayed again? The main reason here is that they forgot to take off their belt or left something metal in one of their pockets. The other reason is that they jumped the gun and did not wait for the security personnel to tell them to walk through the machine. Both of these faux pas will almost certainly cause you to have a pat-down search.
Our favourite stories about how people behave at airport security will have you scratching your head in bewilderment. One couple put their baby through the x-ray machine inside their carry-on bag because the child did not have a visa for the country they were travelling to!
The other concerns a couple trying to take their father back to Ireland for his funeral. Once they found out how expensive air freight was going to cost they decided to do "A weekend at Bernie's" and take him on the plane as a passenger. Both of these naive travellers got caught and were subjected to fines.
Yes airport staff never seem to have a dull day, unlike the poor passengers who always appear to be subject to queuing. However, our straightforward tips can provide less time-consuming hiccups at the airport.
To avoid having to take your shoes off remember to wear flats or better still sandals. Not being able to see a person's eyes always arouses suspicion at airport security checks, so take those sunglasses off and remember to remove any hats or baseball caps before going through the x-rays machine as this way staff can see you are not trying to smuggle something aboard the plane under your headwear.
While we are all subject to the same rules when it comes to flying these days the above-mentioned tips will help you to get through the security check as fast as possible so that you have time to relax before your flight.
• For more travel tips please visit palmaairport.info