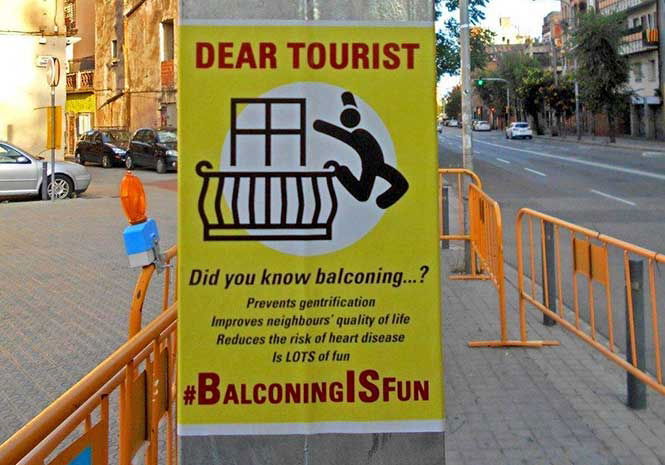 A TWISTED Twitter and poster campaign has sprung up in Spain mocking the deaths of holidaymakers, especially the British, after a spate of recent deaths and serious injuries.
'Balconing' involves jumping into a swimming pool from a hotel or apartment balcony, or climbing from one balcony to another.
One sign spotted in Barcelona says 'balconing is fun' and says that the spate of deaths linked to the practice are improving the quality of life for local residents.
And a poster addressed to "dear tourist" claimed balconing "prevents gentrification", "improves neighbours' quality of life", "reduces the risk of heart disease" and "is lots of fun". A tweet of the poster included a 'GuirisGoHome' hashtag.
Guiri is a name used in Spain applied to foreign tourists and commonly stereotyped as with pale skin and often drunk.
Another message has been painted on a wall in the city stating: "Dear tourist: Balconing is fun."
The graffiti includes a hashtag that shares a name with a new Twitter account, created this month, that has 388 followers and 65 'likes' and the description 'Spreading the word, always looking for new Balconers. We want you!'
There are sick posts on the account including, "Born in UK, dead in mallorca', that was posted today.
Other twisted tweets include, 'No Balcony, no FUN!'
'Did you find a drunk tourist laying on your entrance door? Be polite, take him to his balcony. Alcohol will do the rest.'
'Do the Balconing!… but remember to pay your stay first.'
'Good Morning! Today is Friday! Today is a balconing day! Celebrate it jumping from your hired balconies!'
The UK's Foreign Office says, "There have been a number of very serious accidents (some fatal) as a result of falls from balconies.
"Many of these incidents have involved British nationals and have had a devastating impact on those involved and their loved ones.
"Don't take unnecessary risks around balconies, particularly if you're under the influence of drink or drugs. Your travel insurance may not cover you for incidents that take place on a balcony or if you were under the influence of drink or drugs when it happened.
"You should familiarise yourself with the layout of your hotel and accommodation block when you arrive. Always follow the safety advice of your hotel and/or tour operator if staying in a room with a balcony and watch out for friends who may be at risk.
They concluded, "Some local councils will impose fines to those caught behaving irresponsibly on balconies or jumping from balconies into swimming pools."
Vist a #Vallcarca, camí del #ParkGüell. #BalconingIsFun#Capitalismefòbia#Gentrificació#BCNFail#GuirisGoHome pic.twitter.com/chIdl3Us9I

— L'Escorpí (@LEscorpiMetxa) August 12, 2018