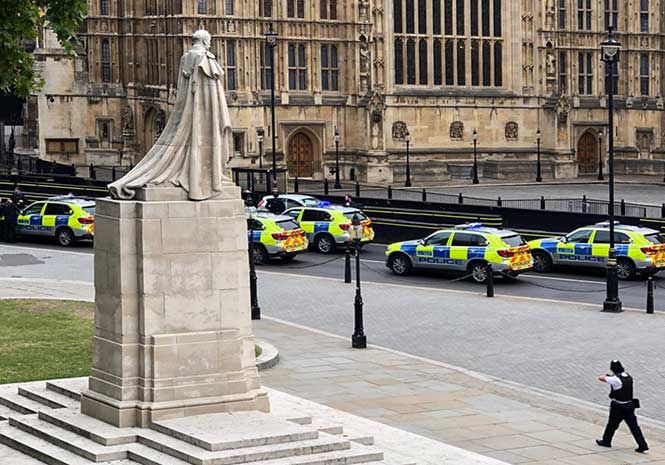 POLICE have confirmed that 'a number of pedestrians' have been injured after a car crashed into security barriers at Houses of Parliament in London.
The Metropolitan Police said a man had been arrested after the incident at 7.37am this morning (Tuesday).
Scotland Yard said: "At 7.37am today, a car was in collision with barriers outside the Houses of Parliament.
"The male driver of the car was detained by officers at the scene. A number of pedestrians have been injured. Officers remain at the scene.
"We will issue further information when we have it."
A large area around the scene has now been cordoned off by police including Parliament Square, Millbank and Victoria Tower Gardens.
A number of ambulances are at the scene.
The Met Police said, "At this stage, officers do not believe that anybody is in a life-threatening condition. Cordons are in place to assist the investigation. Westminster tube station is closed."
Eyewitnesses have said it did not appear to be a normal road traffic type incident and the response from the emergency services appears to confirm that.
#Westminster
BREAKING: A vehicle has crashed into the security barriers protecting the Houses of Parliament #SW1. Multiple armed response units from the Met's SCO19 Firearms Unit have been seen racing to the scene.
Video: @VinnyMcAv pic.twitter.com/Sbo1nztw89

— London 999 Feed (@999London) August 14, 2018
At 0737hrs today, a car was in collision with barriers outside the Houses of Parliament. The male driver of the car was detained by officers at the scene. A number of pedestrians have been injured. Officers remain at the scene. We will issue further info when we have it.

— Metropolitan Police (@metpoliceuk) August 14, 2018
⛔Westminster station – Closed for entry and exit due to a security alert outside the station, the station is open for interchange between the lines only.

— TfL Travel Alerts (@TfLTravelAlerts) August 14, 2018