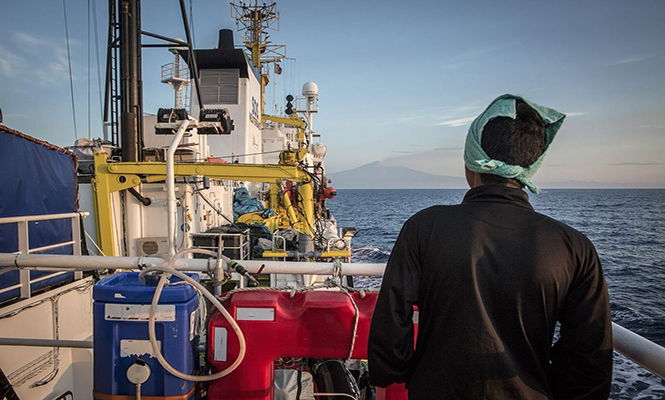 SPAIN has rejected an appeal from a boat carrying 141 migrants picked up in the Mediterranean that previously sent out an SOS docking request to European Union (EU) countries.
The Aquarius, which rescued the 84 men and boys and 57 women and girls off the coast of Libya last Friday, has had other requests rejected by Malta and Italy.
Spain's ports are not the nearest for the vessel and are therefore not the safest, according to sources from the government in Madrid.
The Italian transport minister said the British should take responsibility for letting the vessel dock due to it flying the flag of Gibraltar.
"The ship is now in Maltese waters and under the flag of Gibraltar, at which point Britain must take responsibility for it and its passengers," he said on Twitter.
Local officials in Barcelona said the city's council would be willing to take the boat despite Madrid's refusal.
Laia Oritz, a council social rights spokesperson, said Barcelona would always be committed to saving lives.
"Members of the European Union need to take responsibility because these people are fleeing dire circumstances and need to e rescued," she said.
Attention has now turned to France where authorities have yet to respond to the docking request.
Jean-Claude Gayssot, the head of the port of Sete, said he would be willing to allow the boat to dock there.
"The only condition is having to wait for the green light from French authorities," he said.
Gayssot said he understood there were concerns about smuggling and trafficking which crossed over into the issue but added that was secondary to saving lives.
"Everything must be second in relation to saving the lives of families, women and children. This is about human lives and the problem is first and foremost a humanitarian one," he said.
The news comes as Amnesty International accused the EU of presiding over migration policies that have led to rising deaths in the Mediterranean.
Matteo de Bellis, an asylum specialist with the group, said the number of deaths had increased "significantly" in recent months.
"The responsibility for these growing numbers rests with European governments who are more concerned with keeping migrants and refugees out of their borders than saving lives," De Bellis said.
"European governments are in cahoots with the Libyan government to contain refugees and migrations there despite the terrible violations they are enduring from coast guards and in detention centres," he added.