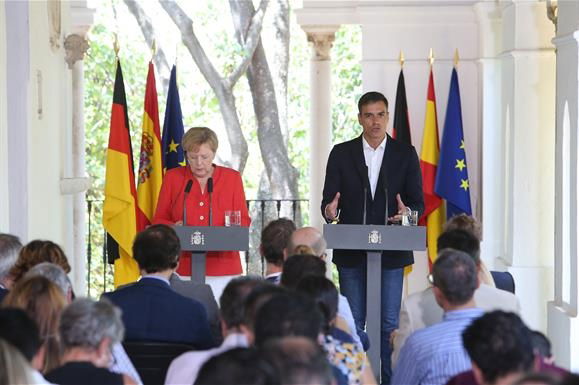 SPAIN'S Prime Minister and the German Chancellor have said they have found "European solutions" to migrant arrivals on Spain's and the continent's southern frontiers following a meeting yesterday (Saturday).
Pedro Sanchez and Angela Merkel held a joint press conference following talks at Sanlucar de Barrameda in Cadiz Province. Merkel was staying at the Prime Minister's summer residence in the Doñana National Park in Huelva Province.
A partir de las 15h. el presidente del Gobierno, @sanchezcastejon, y la canciller alemana, Ángela Merkel, atenderán a los medios tras su almuerzo de trabajo para abordar la agenda bilateral y europea.
Síguelo en directo aquí ⬇️https://t.co/ckZ6ozlDtF pic.twitter.com/XfCbTXU6gQ

— La Moncloa (@desdelamoncloa) 11 August 2018
Sanchez said the two had agreed to push for more dialogue and co-operation with countries such as Morocco which many migrants travel through in order to reach Spain.
He added he and the German Chancellor had agreed to begin talks with the European Union (EU) with a view to making more aid available for border security in Morocco. The Spanish enclaves of Ceuta and Melilla share a land border with the North African country.
Merkel said the EU's existing Dublin system, which states that each member state is required to process asylum requests for those arriving on its soil, was not working.
She added her and Sanchez had spoken about trying to find a system that would fairly distribute arrivals across the bloc's member states.
"Germany and Spain are counting on European solutions," Merkel said.
The German Chancellor added she was now seeking to strike a similar deal with Greece, another leading destination point for migrants travelling to Europe.
The meeting comes as an agreement between Germany and Spain on migrant transfers came into force yesterday.
The deal means migrants arriving in Germany but who are already registered in Spain will be returned within 48 hours.
There have been no cases since mid-June where the arrangement would apply, according to German media reports.