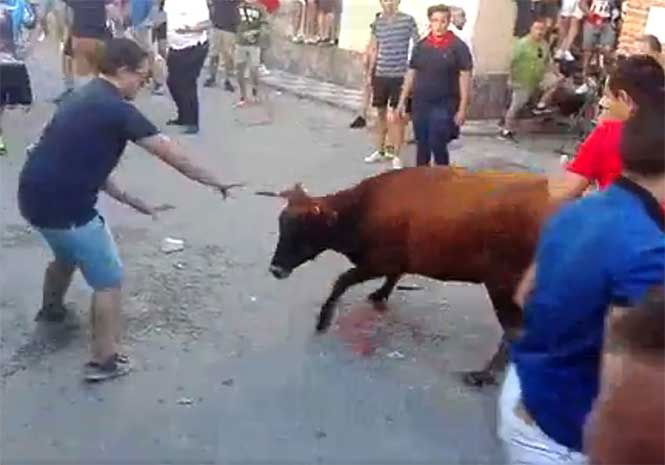 ANIMAL rights activists have strongly condemned the actions of individuals who allegedly kicked, hit and throw broken glasses at an injured and scared beast during a bull run in Spain.
The shocking footage below (that readers might find distressing) was shot at a festival in Begíjar.
The blood-soaked beast can be seen having its stomach kicked and tail pulled.
In the video there is a huge pool of blood on the ground and onlookers shout "you cannot throw a broken glass at the cow."
The Federation against Animal Abuse of Jaen has denounced the authorities who organised the bull run through its social networks and has included some of the testimonies of witnesses.
One said, "I am a resident of Begíjar and what was experienced in my town was scandalous."
The animal association said that thanks to the large number of animal rights activists in Begíjar, they are documenting everything to carry out the "pertinent actions".
Another social media user said, 'Cowards kicking, hiting and throwing broken glasses at injured and scared little bull. Europe, 21st century. Shame #Begíjar #Jaén."
They went on to say, "Whoever harms animals can not be a good person."
#SPAIN #News | Cowards kicking, hiting and throwing broken glasses at injured and scared little bull
Europe, 21st century. Shame #Begíjar #Jaén#AnimalRights ? #MisiónAbolición@_AnimalAdvocate @ARCrusade @allanimalrights @EU_Commission by @PartidoPACMA pic.twitter.com/zP69wPq8nq

— Veruka (@verukawww) August 1, 2018