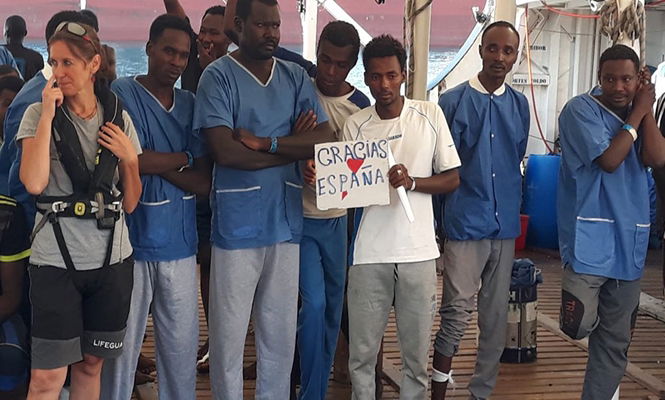 FRANCE'S government has said it would be prepared to take migrants from a rescue boat that picked up migrants near Libya and docked in Algeciras yesterday (Thursday).
The French Presidency said it would offer to accommodate around 20 of the people from the Open Arms rescue ship in a show of "European solidarity".
The announcement from French officials and the decision by Prime Minister Pedro Sanchez to allow the ship to dock follows its turning away by both Italy and Malta.
The people from the boat, including 12 youths, are now set to face an asylum application process which could take them up to two years to complete, according to reports. It includes health tests, interviews and identity checks. 
French officials are due to travel to Spain to begin speaking to the migrants about their potential applications to seek asylum in the former country.
The news comes as Spain opened its first refugee camp in Cadiz Province earlier this week to accommodate the growing number of arrivals.
Pedro Sanchez said Madrid was also planning to open a new Migrant Processing Centre in Algeciras at a cost of around €30 million.
More than 23,000 migrants, many of which are refugees fleeing war in sub Saharan Africa, have arrived in Spain since the start of this year according to United Nations figures