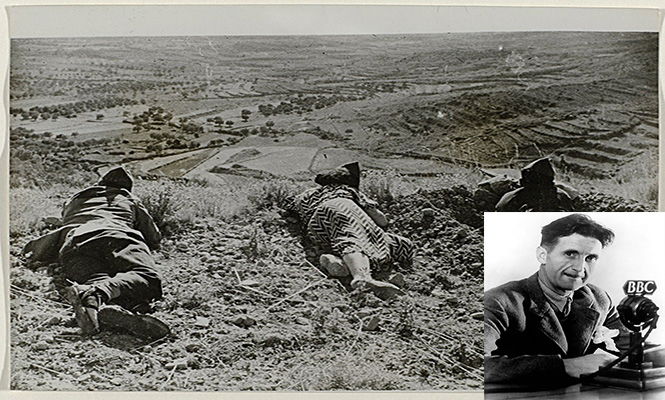 PIONEERING research has suggested British author George Orwell was killed by tuberculosis he caught in a Spanish hospital.
The Nineteen Eighty-Four penman died from a haemorrhage in January 1950.
And while the cause of his death is well known, it has remained unclear where he contracted the condition.
But scientific tests on a letter the author sent to Sergey Dinamov, editor of the Soviet journal Foreign Literature, appear to have solved the mystery.
It was written in July 1937, shortly after Orwell returned to Britain after fighting against the military uprising of General Francisco Franco.
The analysis was carried out by Israeli researcher Gleb Zilberstein, who in an earlier study verified traces of kidney disease on the manuscript of Russian writer Mikhail Bulgakov's The Master and Margarita.
He used acetate film to extract bacteria and morphine from the document, which were checked against archived medical registration records for those that fought in the Spanish Civil War, which broke out in 1936 and ended in 1939.
Zilberstein told The Times: "The level of infection was very high and the [hygiene standards of] hospitals were very poor.
"The civil war in Spain was the last war in the 20th century without penicillin.
"Most wounded people got infections in hospital in Spain and mortality was higher from infections.
"Orwell got TB at a period of the civil war when there was a higher probability of hospital infections."
Orwell went to Spain to write about and fight in the war, during which Franco's fascist regime battled the Republican government for control of the country, eventually becoming a lieutenant in the militia of the communist, anti-Stalinist Workers' Party of Marxist Unification.
He was in May 1937 shot through the neck by a sniper while moving through trenches at the Aragon Front, with the injury permanently affecting his voice.
Zilberstein says there is a "very high probability" the author was infected while recovering in hospital, although contaminated food could also have been to blame.
The traces of morphine are believed to have come from painkillers administered to him at the time.
Orwell later moved to the Scottish island of Jura, where he completed Nineteen Eighty-Four as his tuberculosis worsened.
The book was published in June 1949 and the novelist – real name Eric Blair – died six months later, aged 46.