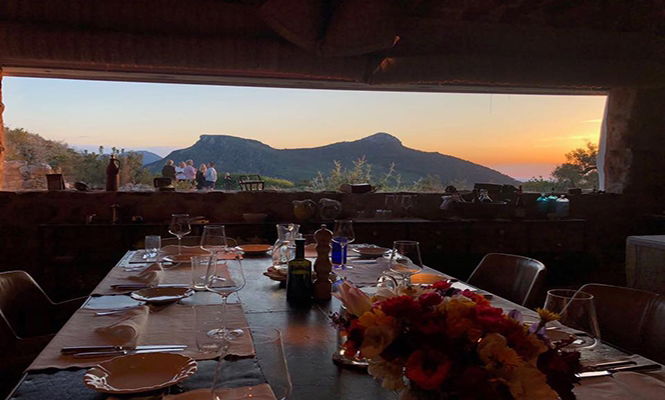 MOST people find out about La Donaire hotel, tucked away in the mountains of Andalucia, by word of mouth.
This old Spanish cortijo (farmhouse) holds just nine bedrooms, a few yurts, a sybaritic spa and two spring-water-fed pools.
It has been operating for the past two years as an eco-friendly farm with rooms, part of a growing trend of boutique agroturismos.
This is a form of agricultural hospitality which celebrates farm-to-table food, a laid-back atmosphere, and above all, authenticity.
It is popular in places such as such as rural Italy and Ibiza, but it is the first hospitality experience of its kind in Andalucia.
La Donaire is located in the middle of the dramatic Sierra de Grazalema Natural Park, framed by craggy faced mountains and undulating green farmlands.
A rustic feel pervades across the house, with worn brown leather seats, wreathes of dried flowers, trough-like sinks and beamed ceilings.
Four-poster beds sit next to Maria Vargas paintings and copper bathtubs, and a Seventies theme pervades the living room with low sofas, shaggy rugs and chrome lamps.
However, the real highlights of the property are the huge picture windows with stunning views, reminding guests exactly where they are.
La Donaire's biodynamic farm runs a 'soil school' teaching local farmers better practices through workshops by experts in permaculture.
All the food provided is either grown on the farm or sourced from a local producer, and it is delicious.
The fact that all visitors come away from La Donaire singing its praises mean that its heard-it-through-the-grapevine nature could soon be a thing of the past.