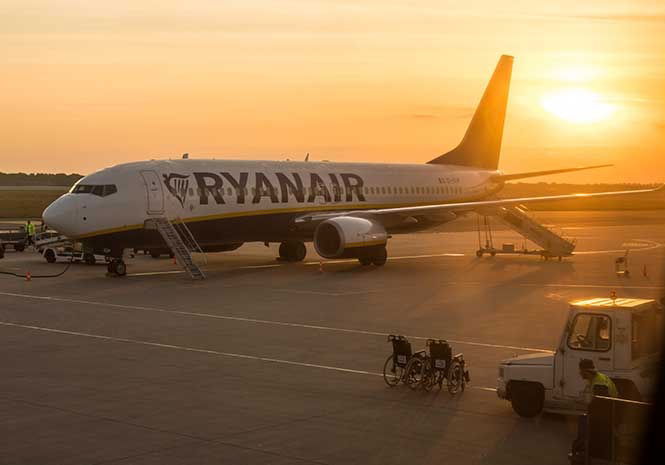 TENS OF THOUSANDS of Ryanair passengers will be given 48-hours or less notice of flight cancellations on Friday, August 10 after German pilots confirmed today (Wednesday) they would joining strikes called by colleagues in other countries.
The budget Irish airline had already cancelled 150 flights ahead of pilots' strikes in Ireland, Belgium and Sweden but now another 250 have been added to the list following the announcement from Germany.
An estimated 72,000 passengers across Europe will see their flights grounded. However, the low cost carrier still plans to operate around 2,000 flights normally.
In a tweet the airline called the strike 'unnecessary' and 'unjustified' and said: "All affected customers will be notified by email/SMS by 3pm today and will be re-accommodated (or refunded) on other Ryanair flights.
The German pilots' union Vereinigung Cockpit (VC) announced in a press conference that it will call up its Ryanair members for industrial action on Friday morning for 24 hours. The strike measure will last from 03:01 am on Friday, August 10, 2018 until 02:59 am on Saturday, August 11, 2018.
Referring to the July 30 VC ballot regarding the implementation of Collective Labour Agreements regulating remuneration and terms and conditions they said,."An overwhelming 96% approval is a clear vote for industrial action.
"However, since then no improved offer has been received from Dublin.
"We demand improvements in pay and working conditions," says Martin Locher, president of VC. "Improvements are inconceivable without an increase in personnel cockpit costs. During negotiations Ryanair categorically ruled out any such increases.
"At the same time, Ryanair has not shown any interest to find solutions. It is only Ryanair, which is responsible for the escalation which has now taken place, "added Locher.
"VC regrets the impact on affected passengers, cabin crew and ground crew. Passengers may wish to contact Ryanair directly regarding their scheduled flights as only the company itself can tell which flights are going to operate."
Meanwhile flight crew who are members of the Dutch Airline Pilots Association (VNV) have voted by a majority of 200 to 1 in favour of a strike.
They are calling for Dutch employment law to be applied, for "no more bogus self-employment", and for improved sick pay and pension arrangements.
Unlike most other European countries, the Dutch union needs to give only 12-hours of a strike.
The VNV union said: "Ryanair needs a 'wake up call' and a strike in the Netherlands might be the only solution."
German Customer Notice: pic.twitter.com/K3Pgt26qgi

— Ryanair (@Ryanair) August 8, 2018
Vereinigung Cockpit (VC) announces 24-hour strike at Ryanair: VC announced in a press conference on Wednesday, August 08, 2018 that it will call up its #Ryanair members for industrial action on Friday morning for 24 hours. https://t.co/dhpyUAknfA

— Vereinigung Cockpit (@vcockpit) August 8, 2018