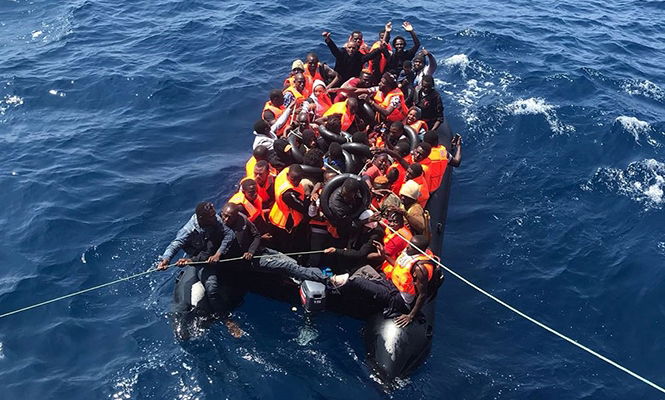 SPAIN'S Interior Ministry has opened a temporary refugee camp in the Algeciras area to house the growing number of migrants arriving in Spain.
The site, set up on a field in Crinavis near San Roque in Cadiz Province, is set to house migrants arriving at three ports in the province.
It comes as European Union (EU) officials said the handling of the migrant situation could fuel a rise in anti-immigration political populism.
The first 442 people arrived at the camp on Saturday. The facility, which has beds, toilets and showers, can house a maximum of 600 people for 72 hours.
Jose Medina, a migrant co-ordinator, said the camp would shelter people rescued and taken to Tarifa, Barbate and Algeciras.
The facility is set to take in 400 people every 24 hours as those who complete their 72 hour stay leave, Medina added.
Pepe Villahoz, of the Acoge immigration advocacy group, said they were concerned by the uncertainty arrivals faced.
"Protocols to deal with migrants have never been established and resources have not been allocated to solve the issue," Villahoz said. 
The opening of the camp follows a pledge from European Union member states to set up migrant reception centres at June's Paris summit.
The new facility also comes as EU officials said they would support Spain on migration.
Dimitri Avramopoulos, the EU Commissioner for Migration, said during his Madrid visit last Friday that Spain would receive additional resources to address the issue.
"Spain has the full support of the European Commission in dealing with the increased arrivals along the western Mediterranean Sea route," he said.
EU officials are concerned the Spanish electorate could be wooed by politicians standing on radical anti-immigration platforms.
The officials reportedly fear a re-run of populist parties including the far right La Liga in Italy being elected and the success of others in Austria and elsewhere.
"At the moment, we cannot afford to lose Spain," one unnamed senior EU official reportedly said.
Pablo Casado, the new leader of the conservative Partido Popular (PP), has begun moving his party to the right on migration.
He recently claimed Spain could not accommodate the "millions" of people arriving on its southern frontier.
The far right Vox political party also organised a meeting in Algeciras for this Wednesday to address what they claimed was a migrant "invasion".
Sergio Carrera, of the Centre for European Policy Studies (CEPS) think tank, said the Spanish government had the right approach to the issue.
"The response of the Spanish government has been correct, putting the figures in perspective and showing that we are not facing a crisis," he said.
Many of the migrants are refugees fleeing war, conflict and poverty in sub Saharan Africa. More than 23,000 migrants have arrived in Spain so far this year, according to statistics from the United Nations.