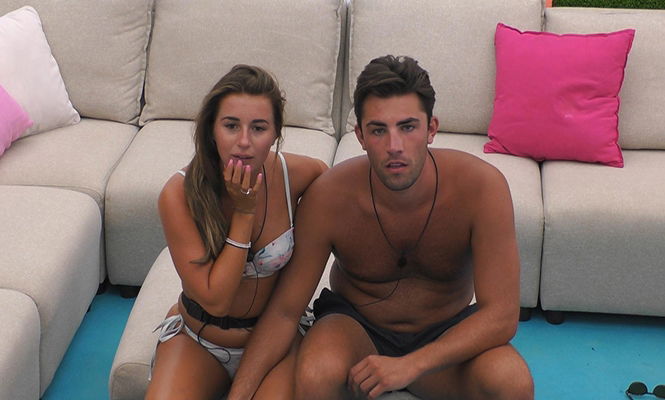 THIS week is probably my last chance to mention Love Island, ITV2.
Now, the ratings have been sky high and the UK press don't seem to be able to get enough of the beautiful contestants falling in and out of love and then spilling the beans about how their lives have been shattered by one of the other beautiful young things not finding them quite beautiful enough….
You might be surprised to read that I did watch one of the visits to the Island over the weekend, only one mind you and I had a lie down afterwards. I tuned in to see Danny Dyer make a massively hyped appearance to give his verdict of his daughter's pairing with Jack.
Danny is so famous that he could only squeeze in an appearance via FaceTime and luckily for Jack, Danny seemed to approve of him, especially his normal, rather than chiselled, tummy. Two things though. First, just when did Danny become so famous and second, I'm not sure why he's commenting on Jack's tummy, chiselled or flabby (he isn't at all flabby, but you get what I'm thinking).
I do realise, you know, that for someone who has consistently whined on about how much he dislikes Love Island, I do manage to drone on about it. That's why you like the TV Critic piece each week though, right??
Did you catch Animals Behaving Badly, BBC1 Sunday morning? Last week was all about how cunning our animal friends can be when it comes to securing food, you know, like the middle isle in Lidl when they have those really cheap solar lamps on special offer. Liz Bonnin is the host who guides us through macaques using psychological tricks to steal food and tigers, well, being tigers. I loved the hummingbirds stealing nectar, put me in mind of a Red Bull dash to the local shops to fight off a Monday morning hangover! If you like anything animal, this is a must. Catch up via BBC iPlayer.
MONKEYING AROUND: Animals Behaving Badly.     Credit: BBC
If you are a fan of anything food or of Bake Off, I'm sure you will already have found Nadiya's Family Favourites, Monday BBC2.  This week the lovely Nadiya was creating fabulous dishes out of  stuff which my Mum would probably throw out. Nadiya also uses what she calls cupboard staples in her dishes. I think this just to make those of us who call our cupboard staples (really expensive) baked beans and some chicken soup, feel inadequate. The food is great and you will get some smashing ideas for easy to make dishes, just don't try to restock your cupboard staples when those solar lights are on buy-on-get-one-free, or anytime in July or August. Tourists take no prisoners at the checkouts.
TV News, E4 have announced the line up for Celebs Go Dating. Series five won't air until October and when it does you might struggle to recognise some (all) of the celebrities, but the hosts are the reason I tune in and thankfully Nadia and Tom are back. Eden isn't. He had a bust up with Nadia. He's been replaced by Paul C Brunson. If you are inclined, Google Paul. He looks like a younger version of me. Oh, and is Nadia really Kirstie, of Kirstie & Phil fame??
This weekend the BBC are showing the European Championships from Glasgow. Go team GB.
Happy Viewing.