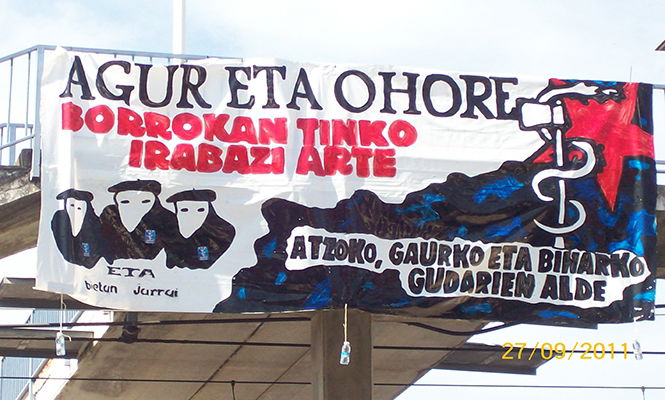 A FORMER head of the Basque nationalist ETA terror group has been released from a Salamanca prison after being behind bars for 31 years on a string of murder convictions.
Santiago Arrospide Saradola, also known as Santi Potros, was pictured walking out of Topas Prison yesterday morning (Sunday) at around 8.15am. He was accompanied by three family members and did not stop to make a statement to reporters.
Potros was found guilty of being behind some 40 killings which resulted from ETA attacks he helped to plan. He served 13 years of his sentence in France and 18 in Spain and was originally jailed for 70 years.
Attacks included one in Madrid's Plaza de la Republica Dominicana in 1986 and another at the Hipercor shopping centre in Barcelona which left 21 people dead in 1987.
Groups including the Association of the Victims of Terrorism (AVT) have said they are concerned Potros could receive a hero's welcome from supporters when he returns to the Basque Country.
Carmen Ladron de Guevara, an AVT lawyer, said psychologists with the group would be monitoring victims of ETA attacks who were most likely to be affected by his release.
The Collective of Victims of Terrorism (COVITE), said on Twitter yesterday was a day to remember victims of the group's attacks.
Fernando Grande-Marlaska, Spain's Interior Minister, said the government would be monitoring the situation.
"If there is a crime that constitutes the glorification of terrorism or contempt for its victims then that is what the state security forces are there for," Grande-Marlaska said.
Potros first joined the ETA in 1968 and was arrested in France in 1987 on 11 charges in connection with the group's attacks.
The ETA, or Euskadi Ta Askatasuna (Basque Homeland and Liberty), was established in 1959 in the Basque region of northern Spain and southern France.
 It morphed from a group promoting Basque culture, language and traditions into a paramilitary organisation dedicated to achieving independence for the region by violent means.
It wound up its operations after announcing it had given up its weapons and ceased activities earlier this year.
Several countries have listed the group as a terrorist organisation and more than 820 people, including 340 civilians, were killed during its attacks. More than 300 of its members are in prison in Spain, France and elsewhere.