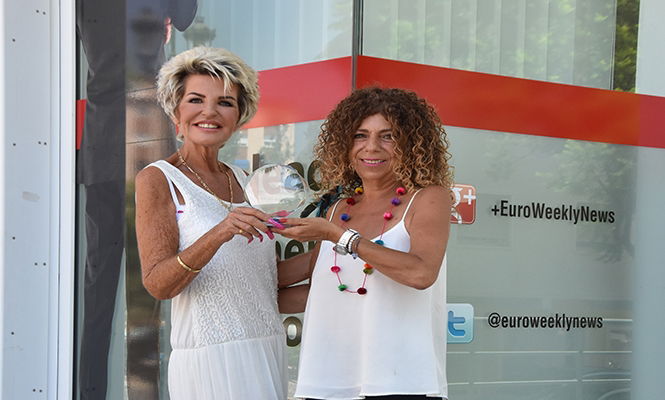 MICHEL EUESDEN, the leading lady at Euro Weekly News, has bagged a special one-off award which recognises the tireless work some expatriates put into helping their communities in Spain.
The Unsung Hero award, from TV show Marbella Now's Nicole King, has been running since 2017. Nicole broke with convention this year to honour Michel with a lifetime achievement award alongside this year's annual winner.
Nicole travelled to the EWN head office in Fuengirola to present the honour to Michel. Nicola said Michel was an unsung hero "every year".
"What Michel does is incredible. On a personal and a professional level she is an unsung hero," Nicole said.
Michel said she felt humbled as she accepted the award.
"I'm lost for words. I'm not accepting the award for myself. I'm accepting it on behalf of everyone involved with the EWN," she said.
Nicole said she had chosen to "break the system" in order to give Michel the honour. It is usually given to people annually but Michel's was a timeless award, she added.
"This award is a life time achievement award. One for the past, present and future. We've created it especially for her and I don't think we'll award another like it again," Nicole said.
"You can see and read Michel's spirit of compassion on every page of the EWN. Lots of professional journalists work but they don't necessarily care about the issues they're reporting on. The EWN does care and that is down to Michel," she added.
Michel said her philosophy of caring for others stemmed from her time in the feminist and women's liberation movements.
"My first thought is that I mustn't judge anyone. It dawned on me that women put themselves down without realising that we are all beautiful inside."
"When I saw how women put themselves down when they had no reason to I swore never to put another woman down. That all goes back to when I was involved with Spare Rib which was one of the first feminist magazines," she said.
Nicole said Michel took on board any issue or problem she found.
"What Michel does for me is incredible. Especially when I think about how many 'mes' there are in her life."
"Michel is there all the time. Most people have a limit. Michel isn't one of them," she said.
Michel said one issue that was always close to her heart was that of the homeless.
"The homeless is something I feel really strongly about. People often don't look at a place like Benidorm for example when they think of issues such as the homeless, but Benidorm has an abundance of problems," she said.
"I remember there was a homeless man sleeping on copies of the EWN. I went down to ask how he'd ended up on the streets and he told he me he had a host of drink and drugs problems."
"I asked where his family was and he told me his family didn't want him. I managed to get hold of his father and we were able to reunite them in Britain."
"He's now getting care there and he's due to go to rehab. But it goes to show that some people are so badly affected that they feel they can't go back home," Michel said.
Nicole said Michel always had time for her ideas and that Michel made the EWN feel like a family.
"The EWN is a home. It makes people feel wanted, special and appreciated. The way Michel treats me and everyone else who comes into her world just shows her character," Nicole said.
Michel said she recognised she had a pivotal role to play in the EWN but that it was a wider family.
"My team are this great family and the paper is a reflection of what's going on in the community. We're not here just to report the news. We're here to help the community."
"I heard someone say once that everyone should try and pick up three pieces of plastic a day. I take it further. I think everyone should try and pick up three people a day," Michel said.
The Unsung Hero award is also going out to Otilia Diaz-Ambrona, a worker at the Foreign Resident and Tourist Office who has put in 13 years of service there.
UNSUNG HERO: The award