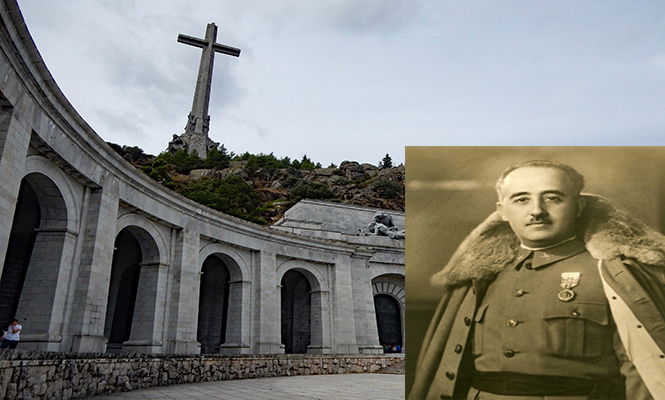 SEVERAL high ranking ex-army officers have published an online declaration denouncing "constant attacks" from the left on former dictator Francisco Franco.
The manifesto was posted on the Spanish Military Association's (AME) website and was backed by more than 180 retired military personnel.  Signatories included a former admiral, generals, colonels, lieutenants and naval captains. It comes amidst an ongoing push to move Franco's remains from the Valley of the Fallen mausoleum.
The Declaration of Respect to General D. Francisco Franco Bahamonde said the dictator had been "vilified" in distortions of history that would make any scholar "blush".
"The political left has unleashed a campaign without limits to erase half a century of our history. They are slowly but steadily erasing all trace of his work from Spain," the document said.
The manifesto claimed Franco had excelled himself as a soldier and was loyal to Spain's Second Republic.
"At a crucial moment for the survival of the Spanish Nation [sic], he assumed the responsibility to exercise command.
"The country was besieged by international communism which was accepted by the Popular Front," it added.
The document called on those who supported the exhuming of Franco's remains and end their plans to destroy a "symbol of reconciliation".
The manifesto comes as Prime Minister Pedro Sanchez, of the governing left-leaning Partido Socialista (PSOE), pledged to exhume Franco's remains and move them from the Valley of the Fallen mausoleum.
Sanchez said he hoped to turn the monument, built under forced labour by Republican prisoners of war and political prisoners, into a site commemorating the fight against fascism.
"After 40 years debates have led us to a very simple reflection, Spain cannot allow symbols that divide the Spanish," he said of the mausoleum in June.
It also follows prosecutors in Galicia opening an investigation last month into Juan Chicarro Ortega, head of the Franco Foundation, over alleged hate crimes.
The probe into the president of the group, which supports and promotes the dictator's legacy, was opened following a complaint from Galician leftists Esquerda Unida (EU).
Several mass graves believed to contain the bodies of victims of mass killing during and after the Spanish Civil War have also been unearthed this year.
General Franco came to power in Spain after his rebel nationalist forces defeated the democratically elected Republican government in 1939 with the backing of Nazi Germany and Fascist Italy.
Some historians claim the election of the left wing Popular Front coalition in 1936 contributed to the launching of the failed rightist military coup which sparked the Civil War.