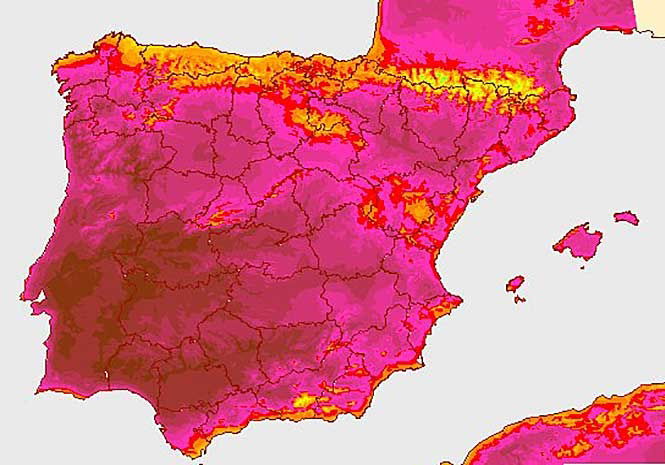 THE UK's Foreign Office has updated the travel advice for Spain to reflect the intense heatwave with record temperatures, possibly in excess of 48C, being forecast until Monday.
There has already been one death reported in Spain after a worker collapsed and died from heat stroke.
Many parts of Spain are expected to experience extreme heat in the coming days, with red alert warnings for the hot weather covering many parts of the country.
Highs of 44C are forecast for most of Spain but there is a chance Europe's highest ever temperature recorded – 48C in Athens – could be broken.
People are being advised to stay out of the sun, drink plenty of water, to use sun cream and wear a hat when out and about.
The Foreign Office says, "The Spanish authorities are forecasting a sharp increase in temperatures over the next week. Please take care when out in the sun.
"High temperatures also carry an increased risk of forest fires; check on the outbreak of fires with the local civil protection authority and report any you may see immediately to the emergency services on 112."
The web page also reminds, "There have been several deaths as a result of falls from balconies. Don't take any unnecessary risks, especially when under the influence of drink or drugs."
And it goes on with a strong warning, "There have been reports of an increase in holidaymakers being encouraged to submit a claim for personal injury if they have experienced gastric illness during their stay.
"You should only consider pursuing a complaint or claim if you have genuinely suffered from injury or illness. If you make a false or fraudulent claim, you may face legal proceedings in the UK or Spain."