THE results of an opinion survey have found that Prime Minister Pedro Sanchez's left leaning Partido Socialista (PSOE) would win a general election if one is called early.
The poll, from the Sociological Research Centre (CIS), found that almost 30 per cent of its respondents would vote for the PSOE in an early election. The party came to power two months ago following a no confidence motion.
Adriana Lastra, the party's spokesperson in the Congress of Deputies, said it was the first time since 2009 that the PSOE had topped the survey.
The poll placed the conservative Partido Popular (PP), who were ousted from government following the motion, second with 20.4 per cent of respondents backing them. They came joint second with the centrist Ciudadanos party.
A total of 15.6 per cent of those surveyed said they would vote for the leftist anti-austerity Podemos party in the CIS's latest quarterly survey.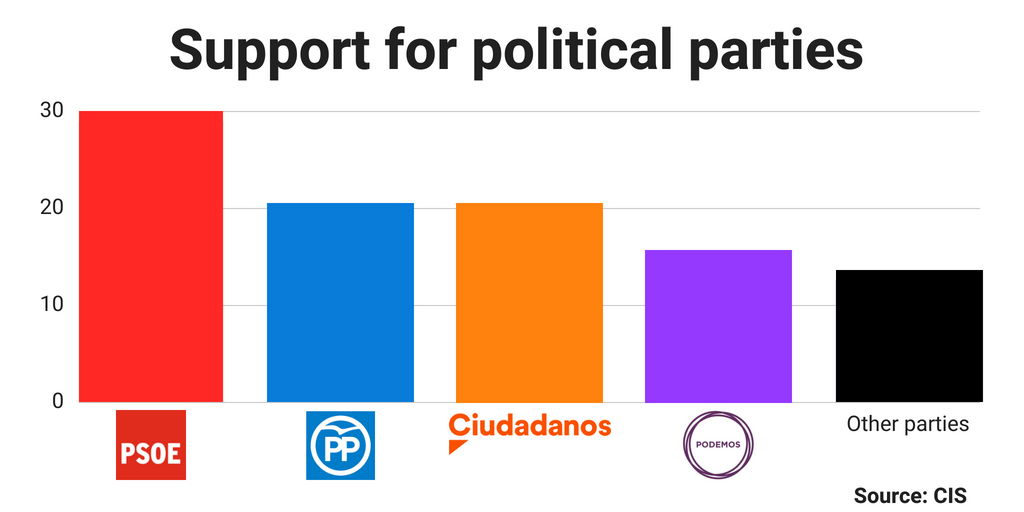 The previous quarterly survey, released in April, placed the PSOE second with 22 per cent of respondents backing them. The PP, in government at the time, came first with 24 per cent.
There are currently 84 PSOE members of the Congress of Deputies, Spain's lower house of parliament, out of 350 lawmakers. The party has 62 out of 266 seats in the Senate, making it the government with the smallest minority in Spain's democratic history.
The poll was taken shortly before the PP chose Pablo Casado to succeed predecessor and former Prime Minister Mariano Rajoy.
Casado stood on a platform of moving the party to the right on a number of issues including abortion and migration. He also floated banning independence parties such as those in Cataluña in a bid to thwart their independence ambitions.
The new PP leader met with Sanchez in Madrid at his official resident of La Moncloa on Wednesday.
Casi 3h de conversación con @pablocasado_ a quien he solicitado una oposición responsable y leal en cuestiones de Estado: migración, política europea, violencia de género o infraestructuras. El objetivo común debe ser avanzar por #España. pic.twitter.com/gOiXWTym76

— Pedro Sánchez (@sanchezcastejon) August 2, 2018
The results of the poll come as the PSOE marked two months since they toppled the PP government on Wednesday.
The party came to power after the then ruling PP became embroiled in the Gurtel corruption scandal.
The motion passed with 180 votes in favour and 169 against after Sanchez secured the backing of regionalist parties. The PP became the first party to be ousted by a no confidence motion since Spain transitioned to democracy in the late 1970's.