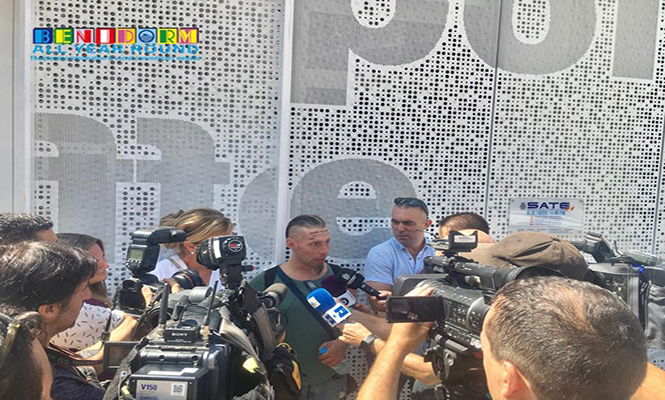 THE young Polish man who hit the international headlines when he was paid €100 to have a man's name tattooed on his face has returned to Benidorm.
He has spent the past two weeks keeping his head down by staying with friends in Granada, but has now decided to it is time to make an official complaint to police and seek medical attention.
Known only as Tomek, he met members of the local British traders association who have raised €3,000 to pay for medical treatment to erase the tattoo.
They are also aiding him draw up a complaint to give police.
Speaking at the Foreign Tourist Assistance Service (SATE) in Benidorm he gave his version of events that have been a sensation in the UK press and further abroad.
He has denied claims it was a stag do group who persuaded him to have the name Jamie Blake tattooed on his forehead. He said he was with a solitary Englishman when he decided to accept the cash because it felt like a "lottery win" at the time.
What he hadn't counted on was the pain involved – he left before the tattoo was finished – and the commotion involved when the incident hit the headlines.
A few days later he was robbed of the €17 he had left from his 'bonus' and he decided to head to Granada.
It was there that a friend got in touch via Facebook asking if he was the man involved. From there the Benidorm British Business Association was able to contact him and make the offer of a medical check up.
The €3,000 collected will more than cover the tattoo removal cost, with Clinica Benidorm covering the cost by itself.
The association will also help out with treatment for his bad back and help set him up in a new life, if he wishes to rehabilitate from alcohol problems.
Tomek says he wants justice to be done on those who decided "to laugh" at his poverty and "have a good time" at his expense.