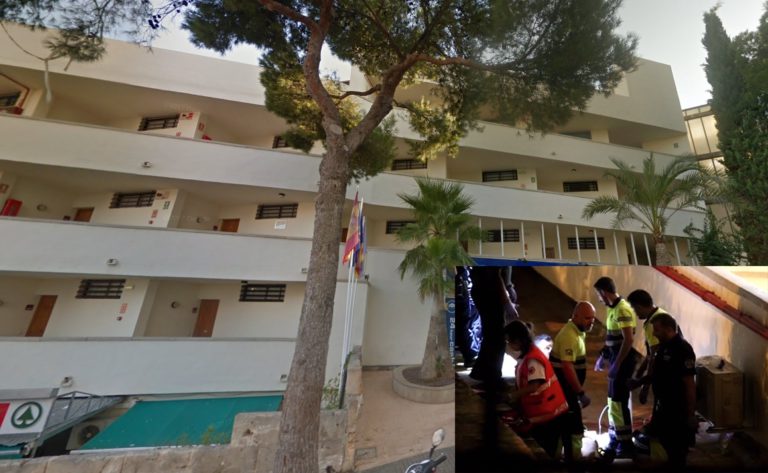 A BRITISH holidaymaker has suffered serious injuries after plummeting six floors while allegedly relieving himself over a hotel balcony in Mallorca.
The unnamed 25-year-old is believed to have fallen from the sixth floor and hit an interior patio head first.
Local reports suggest he lost his balance after dropping his trousers and sitting over the edge of the balcony around 3.30am.
Images of the victim lying on the ground surrounded by police officers and medics appeared in a Spanish newspaper.
And distressing video footage shows a tourist thought to be a friend or relative breaking down in tears after arriving at the scene.
He can be heard shouting "no, no, no" before a blonde woman appears to comfort him and the pair are led away by a police officer.
Guardia Civil investigators confirmed they are probing the incident as an official confirmed: "The matter is under investigation."
British holidaymaker Andrew Rhys Phillips was last May hospitalised after falling from the first floor at the same hotel.
It comes days after Irish teen Padraig Morgan was left fighting for his life after plunging from a second-floor balcony at the Hotel Apartments Deya in Santa Ponsa.
The 18-year-old from West Belfast hurt his hip and spine and medics said he had been admitted to intensive care at Palma's Son Espases Hospital.
The accidents are the latest in a spate of balcony falls involving British and Irish tourists in Mallorca this year.