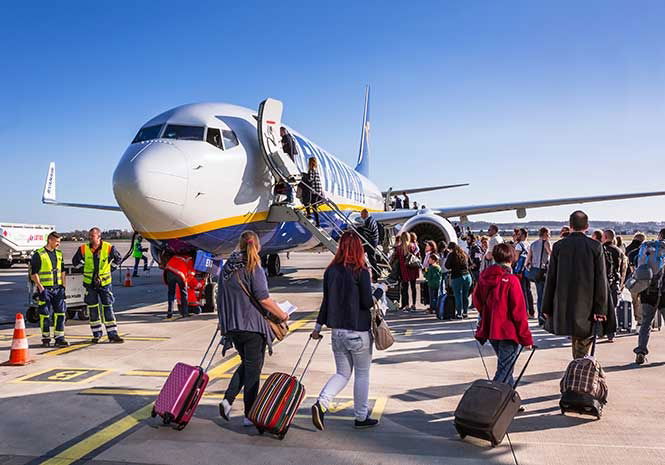 THE low-cost Irish airline Ryanair has confirmed it has received notice of pilot strikes by in two countries next week and believe unions in two other countries will coordinate walkouts at the same time.
The strikes could lead to the cancellation of flights across Europe during the peak holiday season.
Tomorrow (Friday, August 3) some of their Irish pilots will stage their fourth strike.
And now the budget airline has said, it has received notice of strikes by pilot unions in Belgium and Sweden on Friday, August 10.
The airline added that they have also been notified of possible strike actions by pilot unions in Germany and the Netherlands which they 'believe will occur and be coordinated' on the same date.
Ryanair says it has written to each of the unions and invited them to meet to make further progress in concluding union recognition and collective labour agreements.
They say, "In the interim, we have requested these pilot unions to give us seven days' notice of any planned strike action so that we can notify our customers of cancelled flights in advance and offer them alternative flights or refunds."
Ryanair boss Michael O'Leary has threatened again to transfer more staff and aircraft to Poland if the strikes continue.
Speaking at a press conference in Vienna, he said that he would cut jobs "in any market" if the walkouts continue.
He said, "If we have people who just want to have strikes for the sake of having strikes then they can have strikes and they'll find themselves (with) jobs getting moved and aircraft getting moved.
As well as the industrial action the airline is facing air traffic control problems across Europe.
This morning the airline announced that 15% of their first wave of flight departures were delayed due to 'German, UK and Croatian ATC staff shortages.'
They said, "Customers on impacted flights have been notified by SMS text and email."
Update: pic.twitter.com/B0bdlcGWe7

— Ryanair (@Ryanair) August 1, 2018
Ryanair expect to meet FORSA next Tuesday (7 Aug) at 11:00 to advance negotiations on union recognition: pic.twitter.com/SgU1ZMWOg3

— Ryanair (@Ryanair) August 1, 2018
ATC Update – August 2nd: pic.twitter.com/VuhEQCLsly

— Ryanair (@Ryanair) August 2, 2018