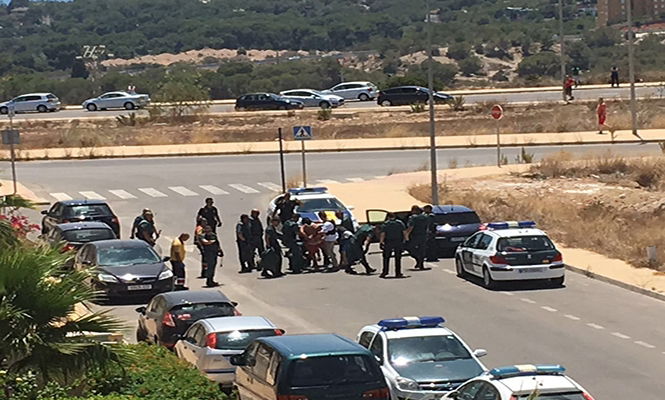 A SQUATTER has allegedly subjected a Costa Blanca community to a four-year campaign of squalor and fear.
Residents of Las Vistas in Lomas De Cabo Roig, said they have tried in vain to have the 'violent' and 'disruptive' man removed through the courts, and claim he was arrested last year, only to break back into the empty property days later.
Police were called after a confrontation between the squatter and a neighbour. Witnesses said the unwelcome guest, thought to be in his forties and suffering with mental health issues, was brandishing knives and a machete before more than a dozen police officers managed to detain him.
'Unbearable stench'
Speaking exclusively to the Euro Weekly News, neighbour and retired police officer John Wakenshaw, 57, said he often locks himself in his own home and avoids leaving the property.
"All day long he is gesticulating and shouting, at the moon, himself or residents. I actually barricaded myself in last week after seeing his ladder near my balcony. You just don't know what he is going to do."
Along with fears of violence, residents´ complaints include mountains of rubbish strewn across the garden and dozens of animals inside the property.
Mr Wakenshaw, who bought his home in 2007, added: "He is around all day long, he only leaves to go to the skip at the end of the road, coming back with bags of food and rubbish which he just leaves lying around.
"He's got two big dogs and 20 to 30 cats. The dogs bark all day and night, I have to sleep with earplugs in. If I do go out, I have to make sure everything is closed up or I come back to cats in my conservatory."
Numerous complaints have apparently been made to Orihuela Town Hall and officials, but to no avail.
In a bid to help themselves, the community has organised clean-up operations of their own, but claim things are now worse than ever.
EYESORE: Residents claim mounds of rubbish and stray animals are causing misery for community in Lomas De Cabo Roig
Mr Wakenshaw said: "He is now using the community showers and swimming pool, even taking water from the pool in buckets. Nobody can use the communal facilities anymore in case of conflict. "I had to call the police last week because of his behaviour, but nobody seems to be interested. We are stuck. There's no way I could sell this property even if I wanted to. People would take one look and walk away."
Community committee member Nick Langan, who owns a holiday home in the area, confirmed the dire conditions he and his neighbours have to endure.
The Scotland-based director of a drainage care and repair business, said: "Vermin have been spotted in the grounds and the stench emanating from the area is so unbearable, people can't open their windows or have guests to visit. This man obviously has mental health issues and needs help."
The property, a possible repossession, is thought to be owned by SAREB, a Spanish government-owned company set up to manage assets. It is not known if the firm has instigated any new eviction proceedings.
SQUALOR: The stinking rubbish is attracting vermin