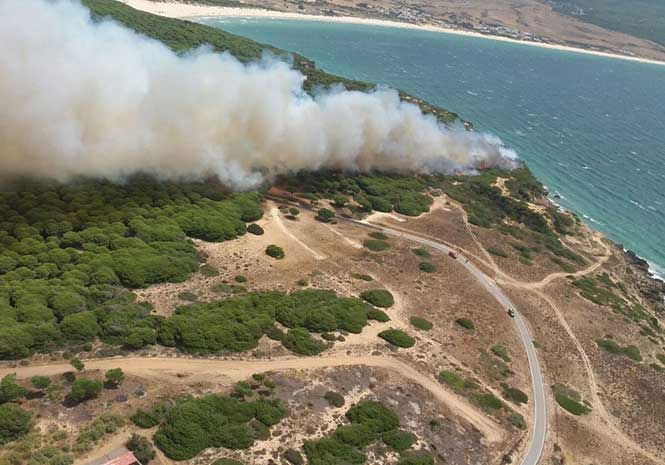 SPECIALIST firefighters are tackling two wildfires that are blazing in Andalucia this afternoon (Wednesday).
Emergency services have reported that the two fires at Tarifa (Cadiz) and Guaro (Malaga) are active.
Attempts to bring them under control are being hampered by strong winds.
Seven aircraft, including two water planes, are also assisting in the efforts at Tarifa while two helicopters and 32 firefighters are on the scene at Guaro.
ACTUALIZAMOS #IFTarifa | Medios:
– Por tierra: 85 #BomberosForestales, 9 #TOP, 4 #AAMM, 4 autobombas, 1 #UMIF, 1 #UMMT
– Aéreos: 4 helicos de transporte y extinción, 3 helicos pesados (2 de @mapagob), 1 avión de coordinación y 2 aviones anfibios de @mapagob pic.twitter.com/KSuxmMq9or

— INFOCA (@Plan_INFOCA) August 1, 2018
Imágenes de #IFTarifa tomadas desde los medios aéreos de Infoca a la llegada al lugar del incendio. pic.twitter.com/EpKx7SJBjO

— INFOCA (@Plan_INFOCA) August 1, 2018
DECLARADO #IFGuaro, #Málaga, en paraje Molino Grande. Medios desplazados: 32 #BomberosForestales, 2 #TOP, 2 #AAMM, 2 autobombas y los helicópteros de transporte y extinción Charlie 7 y Delta 7

— INFOCA (@Plan_INFOCA) August 1, 2018